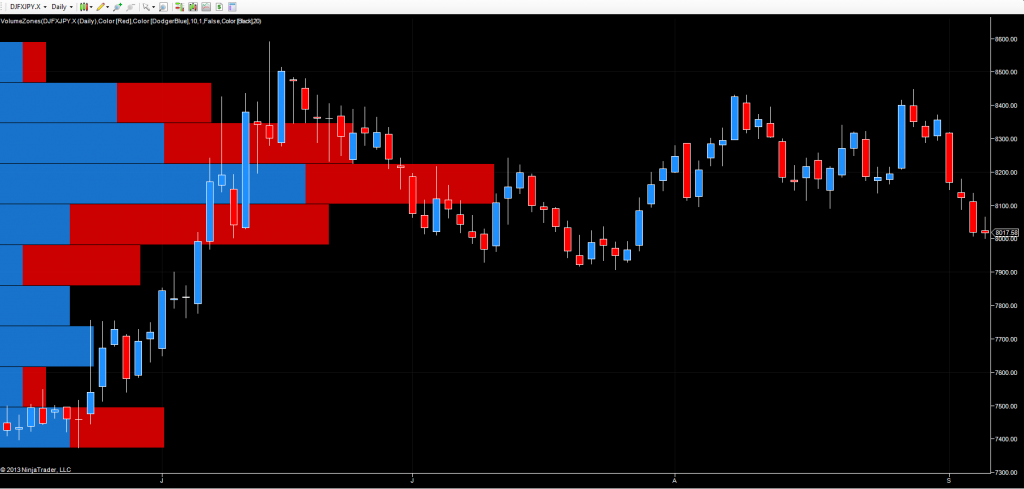 A day for pausing and reflection on the Yen index following Gov Kuroda's comments earlier this week, and ahead of today's non farm payroll data. This pause point was naturally reflected in several of the Yen cross currency pairs, and perhaps more so in the USDJPY itself which flirted with 100, before pulling back to close below and creating a small shooting star candle in the process.
All of this can be seen on the daily chart of the Yen index which closed at 8017.58 last night, following a week of bearish sentiment. From a technical perspective the key resistance level is now firmly in place in the 8450 region where we have a double top in place. Interestingly the potential platform of support at 8150 was duly breached earlier in the week with a wide spread down candle, and the next support zone now awaits below at 7900.
What is also perhaps significant is that this move lower also penetrated an extremely deep zone of price congestion on the volume at price histogram which extends between 8100 and 8200. Below this is the current level of congestion which, whilst not as deep, is certainly important and should the index break below 7950 then the weight of congestion above will be extremely significant and we may further sustained weakness in the YEN as a result.
However, 7950 remains pivotal and this could provide the bounce back platform for Yen strength.
By Anna Coulling