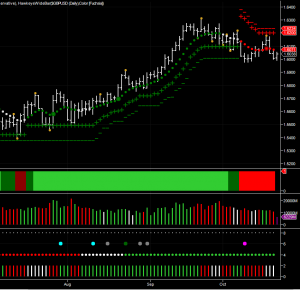 A week of two halves for the cable which saw positive sentiment for the British Pound early in the week with a test to the underside of 1.62 before short term negative sentiment returned on Thursday and Friday pushing the pair lower to test the 1.6 level once again. This psychological level is now becoming increasingly significant from a technical perspective and did indeed provide the base for a recovery earlier in October and we could see a repeat performance once again.
Wednesday's isolated pivot high is now firmly in place adding further negative sentiment to the pair and with a series of these in descending order the short term for cable remains bearish. This is further confirmed by our trading indicator which has remained red since early October and with only minor buying volume early last week the remaining volumes have been primarily selling. However, to counter balance this the three day chart remains firmly bullish with the trend here an unbroken green since late August. There has been a certain amount of selling, particularly last week and the week before, punctuated with periods of buying.
Our trading indicator delivered a signal to the short side which came in two weeks ago but this was an aggressive signal and has yet to be validated. The key now is the current price level and should this provide a platform then we can expect to see a run back to re-test the 1.63 price point of early May and mid September and should this be broken then we may even see cable push higher in the medium to longer term.
By Anna Coulling