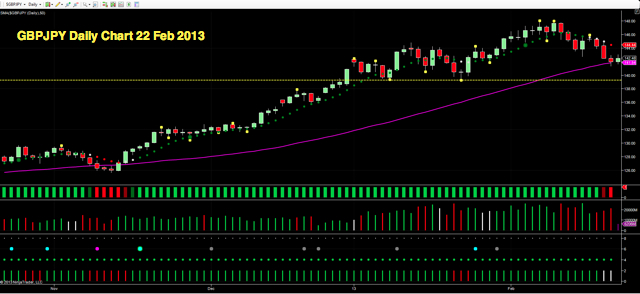 The daily chart for the gbpjpy, like several other Yen cross pairs, is at an interesting technical point.  Since early February the pair has been consolidating around the 148 region posting two isolated pivot highs, the first on the 7th at 147.96, followed a second, two days later on 11th, at 147.91.  This gave us a clear sign of weakness in the pair, which has been duly validated this week with Wednesday's price action significantly breaking below key support in the 144 region.
This bearish sentiment was further reinforced yesterday and, whilst the price action was relatively muted to the downside, it was accompanied by a change in trend dot colour on the daily chart, to red, giving us a clear signal of bearish intent.
In addition, the heat map also transitioned through to bright red, reinforcing this sentiment and finally to complete the picture we have seen rising selling volumes over the past three days on the daily chart.  The three day chart is also beginning to reflect the same with volumes moving from bullish to no demand.
The next price level to be tested is in the 139.50 area as shown by the dotted yellow line and, of particular significance at present, is the 50 day ma which provided interim support in yesterday's price action.  Should we see a break and hold below this in today's trading, with the average, at time of writing sitting at 141.84, then expect to see a deeper move lower. In addition gbpy is also under further pressure from the isolated pivot high of 18th Feb.
By Anna Coulling
Come and join my live training room and discover why in today's complex markets price behaviour holds the key to your trading success.