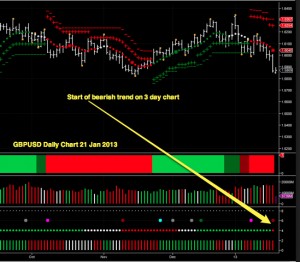 Cable's recent fall from grace was further accelerated on Friday which saw the pair plunge lower breaking back below the psychological 1.60 price point to close the forex trading session at 1.5863 with a wide spread down bar.
Perhaps more significantly this also breached the strong platform of support in the 1.60 region which until then had helped to cushion cable from a deeper move lower.  The question now, of course, is whether this bearish sentiment towards cable is likely to develop into an extended push lower or is merely a temporary pullback and a further extension of a deep range of sideways consolidation.
From a fundamental perspective there are several interesting factors which may now be coming into play with regard to the British Pound, and it is also interesting to note that not only has cable fallen out of correlation with the eurodollar recently, but also that the associated dollar strength is not reflected on the dollar index chart.  In other words, what appears to be driving cable at the moment is Sterling weakness and not US dollar strength.  So what are these factors affecting Sterling?
First, of course, is the recent hint by a downgrade by the rating agencies.  Second, Sterling is now seen as potentially losing its safe haven status as doubts grow over the UK's future in the EU.  Third, and finally, the UK economy continues to struggle with the possible threat of a triple dip recession, recently reinforced by a number of high profile retail failures and the current poor weather.
Finally, the New Year appears to have ushered in a phase of Euro optimism as far as the markets are concerned with concerns over sovereign debt and defaults now a thing of the past.   As a result the bears' spotlight is now on Sterling.  For the UK government, of course, a weak British Pound may be welcome, supporting as it does the country's exports.  However, the BOE (Bank of England) will not want to see this reflected in a drop off of buying of government bonds (gilts) which in turn will force up borrowing costs which in turn could damage any recovery.
From a technical perspective with the breach of the 1.59 area now in place and with cable currently trading at time of writing at 1.5869 the next key level is the isolated low of mid November at 1.5822, the bears' next target.
Moving to the indicators, the most significant change of last week was on the three day trend which transitioned from bullish to bearish and with selling volumes now clearly evident on both time frames, coupled with a bright red heatmap, the outlook for cable remains firmly bearish at present.
By Anna Coulling