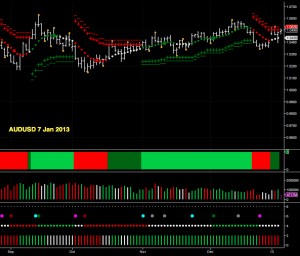 With little fundamental news in Europe today forex traders may wish to focus their attention on the commodity dollars and in particular on the Australian dollar and the aussie dollar pair.
Since the start of the year the audusd pair has continued to move in a relatively narrow range, oscillating between 1.0400 and 1.0500 with Friday's price action typifying this recent price activity.
As we can see from the chart the bullish momentum of early December ran out of steam at the 1.0600 price point where a consequent isolated pivot high was posted and which then saw the pair retrace to end 2012 back towards the 1.0350 price zone where a platform of support awaited.
Since then the pair has managed to recover a degree of bullish momentum and from a technical perspective the pair certainly look set for a further attempt at a breach of the strong resistance level in the 1.06.
This technical picture may be given a boost from two important items of fundamental news. The first is the trade balance release due out overnight on Tuesday followed on Wednesday by retail sales.  Of these the trade balance number is of more interest, not least because the Chinese equivalent is also due, and may help to inject some much needed direction to the daily audusd chart.
Moving to the trend and volume, Aussie buyers returned on Friday, but in only in a muted way, with only average volume on the day.  Sellers remain in control on the three day chart and with both trends now in transition (white) we have to be patient and wait for any breakout from the current consolidation for the pair.
The heatmap also mirrors this view and is once again in transition, from bearish to bullish.  However, the key for the pair remains the technical resistance as outlined above and for any sustained move higher this needs to be broken.  Should this does occur then a strong platform of support will then be in place for a further sustained move higher in due course.
By Anna Coulling