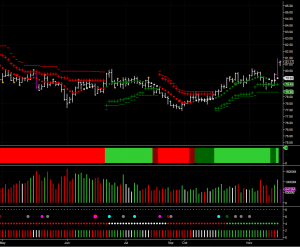 The USD/JPY surged higher in yesterday's forex trading session, breaking through resistance in the 80.50 region, and closing with a wide spread up bar at 81.17 on the daily chart. No doubt the Bank of Japan will be breathing a collective sigh of relief. The surge higher for the pair was triggered by investors seeking out safe haven assets, with equity markets selling off once again, and with risk appetite draining away, a consequent flow into the US dollar in favour of the Japanese yen. This was given a further boost in the overnight session as the Nikkei rose with yen flows moving back into stocks.
From a technical perspective, this breakout from the recent sideways price action was as expected, and with a solid platform of support now in place below in the 80.40 region, this should provide a springboard for the next leg up in the current bullish trend. The move higher yesterday was also supported by rising volume, driven by the buyers, and this was also a feature on the three day chart as buyers returned in force. It is also significant to see the volumes on the daily chart rising on the breakout, suggesting that this move higher is gathering momentum, and therefore likely to continue in due course.
The longer term trend on the three day chart remains firmly bullish, and with the price action of the last two weeks now seen as just a temporary pause, we can expect to see the pair climb higher in the short to medium term. The next level of price resistance is now ahead in the 83.29 level of the 2nd April, denoted with the isolated pivot high. A clearance of this level will then open the way to a further move higher to test the 84.17 region of mid March.
By Anna Coulling