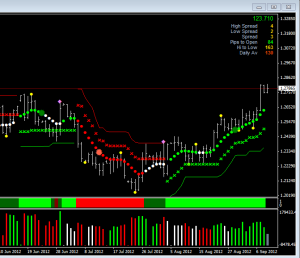 Following Friday's wide spread up bar which was largely in response to Mario Draghi's rescue plan for the Eurozone, yesterday's price action in the euro dollar pair was relatively muted on the MT4 daily chart, with the pair closing the session as an inside bar at 1.2758. In this morning's trading session, the pair have pushed higher once again, testing the psychological 1.2800 region once again, a level that was breached on Friday, to trade currently at 1.2795.
From a technical perspective, the pair have now broken above the 1.2742 level of mid – June, a key resistance level, which has now created a strong platform of support to the current bullish trend. Above there is little in the way in terms of further price congestion and as such we shoud see the pair test the underside of the next level which now sits in the 1.3100 price region.
Volume on the daily chart remains both strong and bullish, with buying volume appearing over the last ten days, and rising towards the end of last week – a positive signal – and the only warning at present, is the decline in the level of buying in yesterday's trading session. Finally the trading indicator remains bright green continuing to signal bullish momentum in all three trends, and with the daily trend now developing strongly, we should see the pair continue higher over the next few days, and on towards a re-test of the 1.3000 level in due course.
Strength in the major currency pairs has also received a boost of course, from Ben Bernanke, whose clear hints at a further round of stimulus for the US economy suggested that it's not a question of 'if' but 'when' quantitative easing is unleashed. This has been clearly signalled on the USD index, with the US dollar weakening against all the major currencies, and now looking to test the 80 level on the daily chart. If this level is breached as expected, then we are likely to see sustained US dollar weakness as the programme rolls out, with major currency pairs and commodities the main beneficiaries and all developing bullish trends as a result. Thursday of course will set the tone, when we have the monthly FOMC meeting, with any associated statement from Ben Bernanke the highlight event.
By Anna Coulling