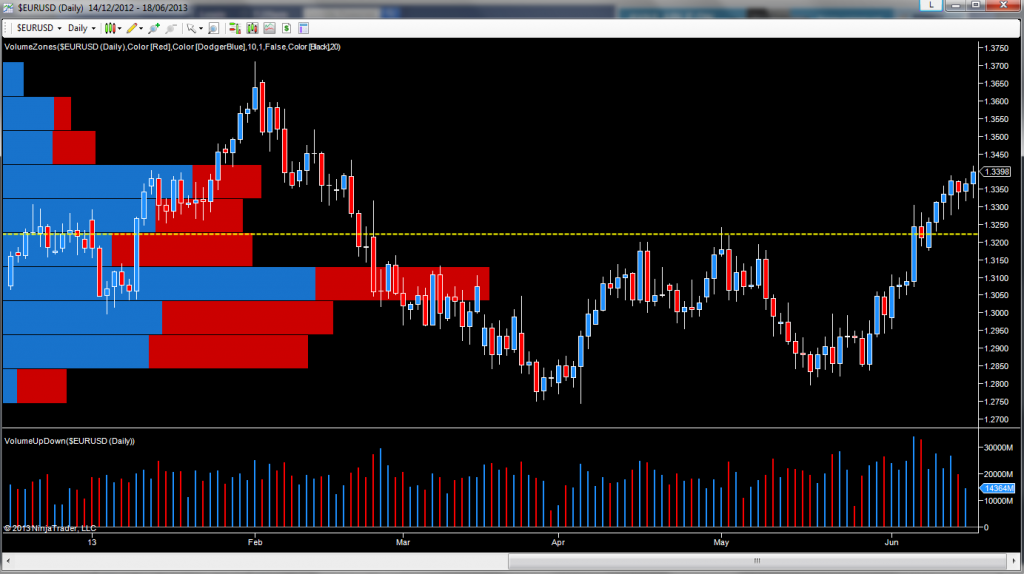 Bullish momentum for the eurodollar shows little signs of abating just yet – or does it?  Since late May we have seen the single currency break away from the springboard of 1.2850 and develop a bullish trend higher which has seen the pair take out the key resistance at the 1.3225 price region, as shown by the yellow dotted line.
The candle that triggered this move was associated with ultra high volume, clearly signalling that the major players were supporting this move higher. Since then the eurodollar has continued to climb steadily higher on towards the 1.3450 area, which was a price level, I suggested, as an initial target for the end of this week in one of my earlier market forecasts.
However, for volume/flow traders (of which I am one) the key point is this. We now have a market which is rising, but on declining flow, giving us an early signal that buyers are now withdrawing from this move. This early warning is highlighting a potential pause in the short term and a possible move into congestion, or even a pullback. However, this is certainly not a significant sign of a major reversal, and with the strong platform of support immediately below, any move lower is likely to be short lived, and bounce off this region before continuing higher.
To reinforce this view we only need to consider the volume at price histogram which has built a solid wall of resistance at the 1.3425 price area which has already been tested in today's forex session. This may provide a temporary barrier to the move higher, but if this is breached, in the medium term, then this will add a further plank of support in the bullish trend higher.
Counterbalancing this technical picture is, of course, tomorrow's FOMC statement in which the market is expecting clarification from Uncle Ben following his previous somewhat garbled utterings.  However, this may well have been deliberate, since the FED Chairman is renowned for his careful and precise pronouncements. Therefore, we can assume that this was simply a test of market reaction. Remember this is a classic central bank ploy ahead of any major change in policy.
To summarize, the eurodollar looks bullish, albeit on reduced flow and is also running into stiff resistance at the 1.3425-1.3450 price region and tomorrow's FOMC meeting may be the catalyst the pair needs to break through.  However, any failure will simply see the pair return to test the strong platform of support at 1.3250.
By Anna Coulling