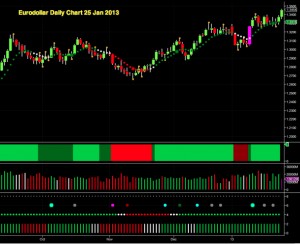 The euro continues to defy its detractors and critics, surging ahead in this morning's trading session against the US Dollar, the British Pound, the Swiss Franc and the Japanese Yen.
Today's price action for the eurodollar could indeed be a seminal one, provided the pair hold above the 1.34 key level which marked the top of the previous sideways congestion.  This sideways congestion was defined by an isolated pivot high on 14th January and isolated pivot lows in the 1.3263 area.
This period of sideways congestion had extended for 10 days, beginning on 11th January with the pair remaining range bound until this morning.  As one of the few market commentators to remain bullish on the euro this has come as no surprise and now expect to see further euro strength in both the eurodollar and cross pairs in the short to medium term.
From a fundamental perspective (and as mentioned yesterday) the news that many European banks are due to repay their loans earlier than expected to the ECB on January 30th, is a strong sign of a slow but gradual return to health for the financial system in the eurozone.   The ECB began offering the banks the loans back in December 2011 in an attempt to restore the battered confidence in the financial system.  Of the 800 banks which initially took up the offer approximately 300 are due to repay these over the next few days.
This positive sentiment for the euro was also helped this week by better than expected German economic data, in particular the ZEW which came in at 31.5 against a forecast of 12.2.  In addition with equity markets surging higher this is also attracting strong money flows away from safe haven currencies such as the Swiss Franc, the British Pound and the Japanese Yen.
So, where next for the eurodollar?  Technically, the next key price level is the 1.3485 price region, last seen in February 2012 and any breach here then expect to see the pair climb further, possibly to retest the 1.3568 high of late 2011.
By Anna Coulling