Today's dramatic fall in the eurodollar appears to have been triggered by weaker than expected economic data from the eurozone which confirmed that the economy contracted more than expected in the fourth quarter, with GDP coming in at -0.6% against a forecast of -0.4%.
This was also against the news that both France and Germany had also experienced a greater than expected contraction in economic growth in Q4.
However, from a technical perspective the daily chart for the eurodollar was already looking weak with yesterday's price action closing with a shooting start candle.  In other words, today's news was simply a validation and confirmation of a likely reversal.
This current reversal follows on from last week's weakness in the wake of comments from ECB President Mario Draghi, which was the original trigger for the current slide in the eurodollar.
Moving forward, with  the volumes on both the daily and 3 day charts predominantly bearish, and with the heatmap in transition from strongly bullish to mildly bullish,  a wind a change appears to be in the air.
And with today's price action moving through the potential platform of support in the 1.3375 area and moving towards the key 1.33 price point at the time of writing, the question now is whether there is sufficient momentum in this move lower to take the eurodollar down to the next significant level which is at 1.3250.
1.3250 is the price region last tested during the consolidation phase of mid January with the 2 isolated pivot lows clearly marking the extent of this platform of support.
Whether the 1.3250 price area can hold and provide the springboard for the eurodollar to resume moving higher once again remains to be seen.  On the positive side the three day trend on the daily chart remains green.  There is also further encouragement in the weekly chart where we can see the extent and breadth of the consolidation zone at 1.3250.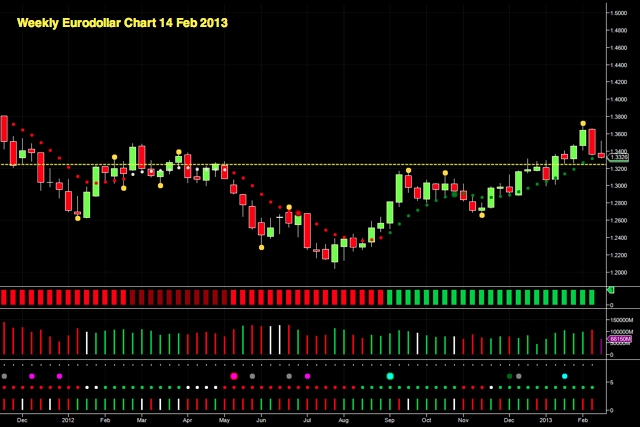 However, despite this mildly rosy picture for the eurodollar what may ultimately determine its fate is not fundamental data, nor even the technical picture but politics and, in particular, the politics of Spain and Italy.
By Anna Coulling
Come and join my live training room and discover why in today's complex markets price behaviour holds the key to your trading success.