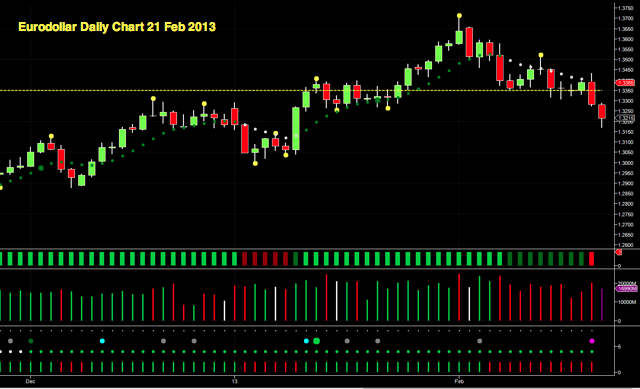 Before moving to an analysis of the price action in today's trading session for the eurodollar, which has so far seen the pair move sharply lower to break through the 1.32 area as the pair continue to react to the somewhat muddled FOMC minutes.
Today's price action is also a follow through from yesterday where the technical picture was dominated by the wide spread down candle which closed below a key support level and also through the 1.33 level.  In addition yesterday's price action was also accompanied by extreme selling volume which was also a feature of the three day chart.
Finally, the heat map has now also transitioned to bright red to reflect this change in sentiment in the short term.
The key now is whether the eurodollar will find support in the 1.3160 area where further price congestion awaits.
The move lower was also triggered by dollar strength on the daily USD index chart which is now testing the upper level of its price congestion area at 81.50.  For the eurodollar to move lower the USD index must hold above this level, otherwise this is simply a temporary pullback in the daily eurodollar chart.
From a fundamental perspective today's eurozone PMI data has been much weaker than expected, particularly from France which has seen both its services and manufacturing numbers fall to levels last seen in 2009.  So not a good day for the French economy.
By Anna Coulling
Come and join my live training room and discover why in today's complex markets price behaviour holds the key to your trading success.