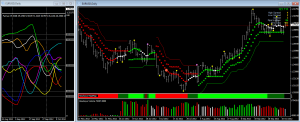 The EUR/USD pair closed the week at 1.2952, having failed to breach the psychological 1.3000 price level which is now being tested once again following the recent decline which saw the euro dollar test the 1.2800 region throughout the week. Markets in general were in desultory mood as the IMF meeting in Tokyo began with the usual topic of the Eurozone, heading the agenda once again, and this lack of direction was also reflected in the currency markets with the pair trading in a relatively tight range throughout the day.
Over the last three weeks we have seen the EUR/USD slide lower following the high of 1.3172 on the 17th September, at which point our indicators posted an isolated pivot high, signalling a move lower which sent the pair below the 1.3000 level for seven consecutive days, and finally bringing the bullish trend to a halt. Since then we have see the pair move into classic sideways consolidation at this level, with an isolated pivot low on the 1st October defining the floor of this area, and an isolated pivot high at 1.0371 defining the upper level. With this congestion area now clearly defined, we now have to wait for a break and hold away from this area of price congestion. The question, as always, is whether this breakout is likely to come to the up side of this region, and a continuation of the bullish trend, or to the downside, and a reversal in the longer term trend.
The trading indicator has recently transitioned from bright green to dark green, confirming the recent change in trend and giving a clear signal of a a slowing in market momentum on the daily chart for the pair. This is also reflected in the volume with heavy selling volume in red over the last three weeks, once again giving a clear signal that sentiment for the euro is negative at the moment. Finally our currency strength indicator on the daily chart, is also negative for the euro, with the currency continuing to fall, and following a short term pullback, the green line is now sliding lower once again, suggesting further weakness for the euro in the short term. The question of course is whether this weakness will continue to be reflected in the US dollar, or perhaps in other cross currency pairs, but from a technical perspective, any break and hold below the floor of the current congestion area on the daily chart will signal further weakness in the short to medium term for the euro vs dollar.
By Anna Coulling