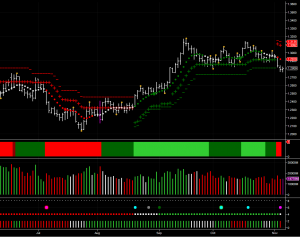 The EUR/USD continues to remain firmly bearish on the daily chart as the currency markets await the outcome of the US presidential election, with most pairs trading in a narrow range as polling gets underway, and with the result too close to call, markets are now nervously awaiting the result. In today's trading session the pair have once again been testing the 1.2760 price level, repeating the price action of Monday as the pair trade around the 1.2800 level on the daily chart.
A feature of the last two weeks has been the heavy selling volumes which have added additional downwards pressure on the Euro, and this was given further weight yesterday as the three day trend finally moved into transition with the first white trend dot, which also coincided with selling volume on the three day chart, the first time this has occurred since mid October. In addition of course, our trading indicator has also completed it's own transition to bearish on the daily chart, and with the price action now well below the recent platform of support in the 1.2850 area, this is adding further to the negative picture for the pair.
Finally, our trading indicators also delivered an aggressive short signal based on volume yesterday, and if this is confirmed with a conservative signal, as the three day trend moves to bearish, then we can expect to further weakness of the pair, and a test of the next level of potential support in the 1.2760 region.
By Anna Coulling