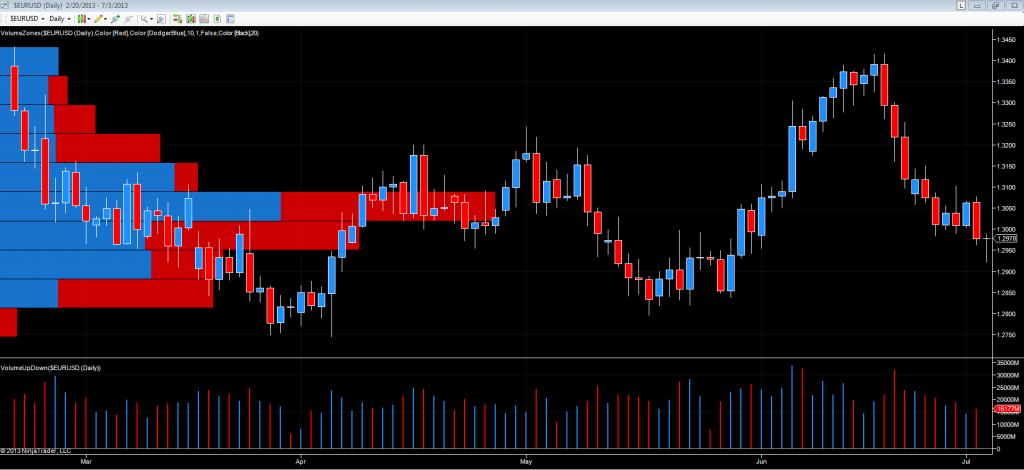 Euros bears will no doubt have been heartened by the sharp sell off in the eurodollar which saw the pair pullback from the 1.34 region to re-test the support in the 1.29 price zone. The initial trigger, from a technical perspective, was the bearish engulfing candle of 19th June which sparked this descent lower. The question that all forex traders are now asking is whether we are going to see a repeat of the price action of February and March, and to a lesser extent, that in late May as well. During these phases of price action bullish momentum for the eurodollar was snuffed out, but support at the 1.28 region held firm.
The answer to this question lies in the volume/flows and it is clearly evident from the daily chart that we have a combination of a falling market and declining interest, a clear sign (if any further evidence were needed) that bearish sentiment for the eurodollar is draining away.
Indeed yesterday's wide spread down candle was a classic example, where the associated selling volume was half of that as seen on the initial bearish engulfing candle of 19th June.
In today's price action so far, the pair has tested the 1.2920 price point and should the current candle formation hold (a hammer), then expect to see the eurodollar start to recover and move back to break above the strong resistance which extends from 1.30 through to 1.31, as shown by the volume at price histogram.
By Anna Coulling