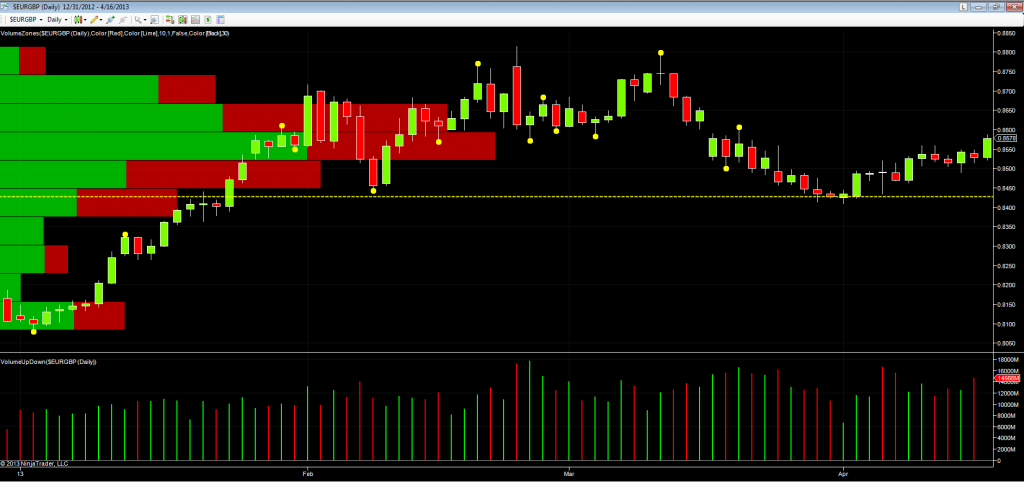 The EUR/GBP like many other euro pairs continues to defy the euro skeptics with the single currency continuing to recover from the after shocks of Cyprus. This all now seems a dim and distant memory, with market attention focused on commodities and the collapse in the metals markets, earnings in the US, and of course China. Indeed it was China and Chinese growth that sparked the initial concerns, with GDP growth coming in at a 'weak' 7.7% against a forecast of 8.0% and 7.9% last time, with most analysts forecasting a slight increase to 8.1%.
For the EUR/GBP, it is business as usual today, with bullish momentum pushing the pair firmly higher following the recent downwards slide, which saw the pair test a high of 0.8800, before moving lower to test support in the 0.8450 region, as shown with the yellow dotted line. This duly held firm, and with this platform of support now in place, has provided the springboard for the move higher. Today's price action has also broken above a secondary level of price congestion in the 0.8500 to 0.8550 area, and provided we see a clear hold above this level later this evening, then this will be another firm signal of further bullish momentum in due course. Yesterday's narrow spread down candle was also particularly revealing, suggesting support and buying at this level in preparation for the subsequent move higher today.
However the key now is the deep areas of volume congestion clearly visible on the left hand side of the chart, which extends from 0.8450 all the way through to the 0.8700 region. To breach this area will require sustained high volumes on any up candles, and should this be breached, a solid platform will then be in place to attack the 0.8800 region once again, where previous rallies have failed.
By Anna Coulling