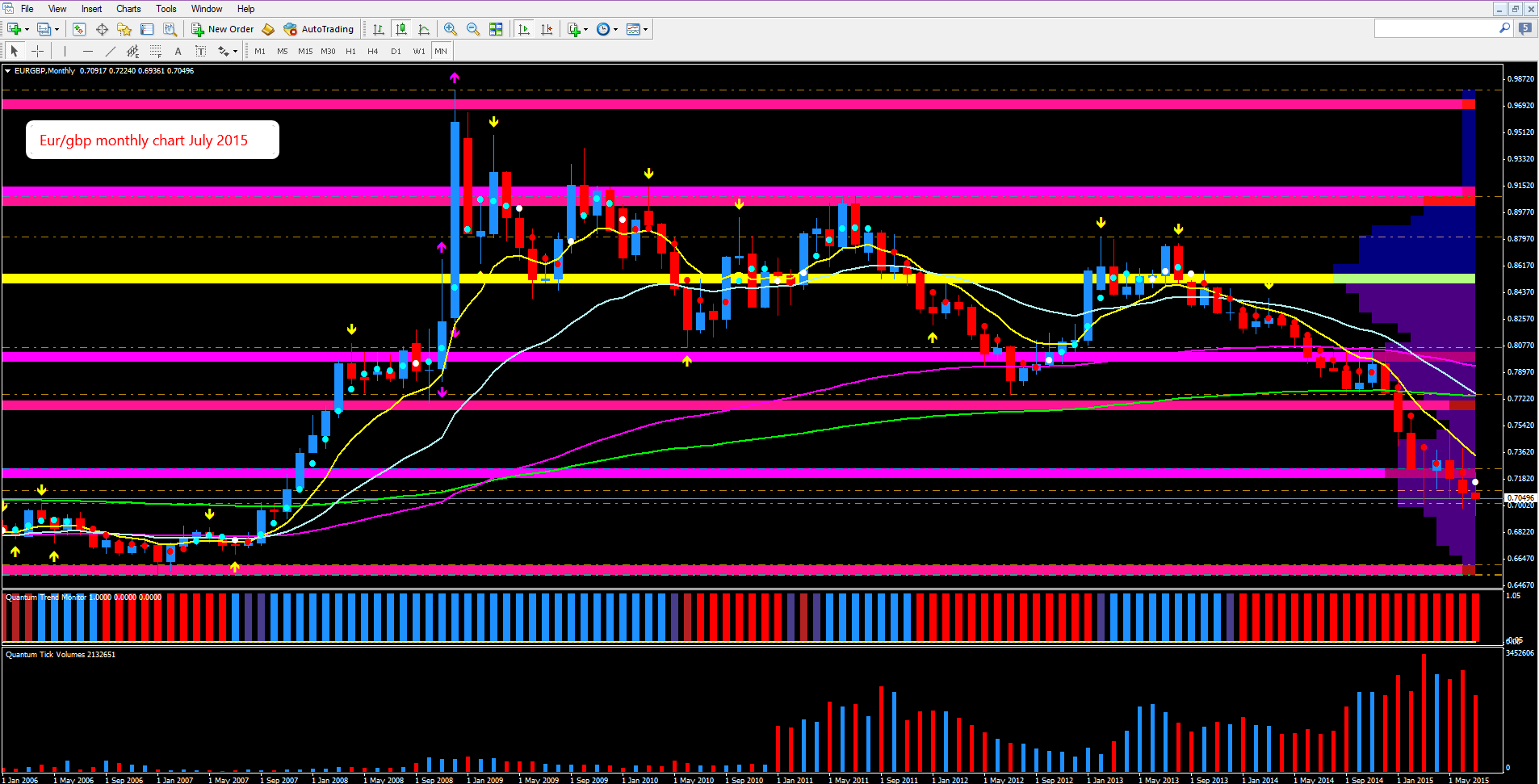 A recurring theme of our weekly forex webinars  is the importance of considering the cross currency pairs whenever trading forex. Many traders simply fail to take account of the flows into these pairs which often given a more nuanced view of the market's sentiment towards a currency.
One excellent example is the eur/gbp where on the monthly chart the pair has been in a sustained down trend since September 2013, where it has been moving steadily through various levels of support, as well as high and low volume nodes on the VPOC indicator (volume point of control). Most recently, the pair has broken through a high volume node in the 0.7182 region, and indeed last month's price action was also confirmed with a deep upper wick to the candle, suggesting further downside momentum to come. What is also interesting here is the increase in volumes which have accompanied the current moves, thereby validating the bearish picture for the pair.
Longer term we are now looking at a potential move lower to test the 2007 support at 0.6538, a view shared by Goldman Sachs.
From a fundamental perspective it is easy to see why this pair has been so heavily bearish, reflecting as it does the market's negative view of the euro, equally balanced with a positive view of the British pound, which of course sits outside of the eurozone. In some respects sterling is being increasingly seen a 'safe haven' currency, and indeed in previous times was the currency of first reverse.
Finally, by considering a cross currency such as the eur/gbp this then provides triangulation against the dollar based majors, thereby providing a more balanced perspective of the forces driving each currency in isolation.
By Anna Coulling
Charts are from the MT4 platform and the trading indicators from Quantum Trading.