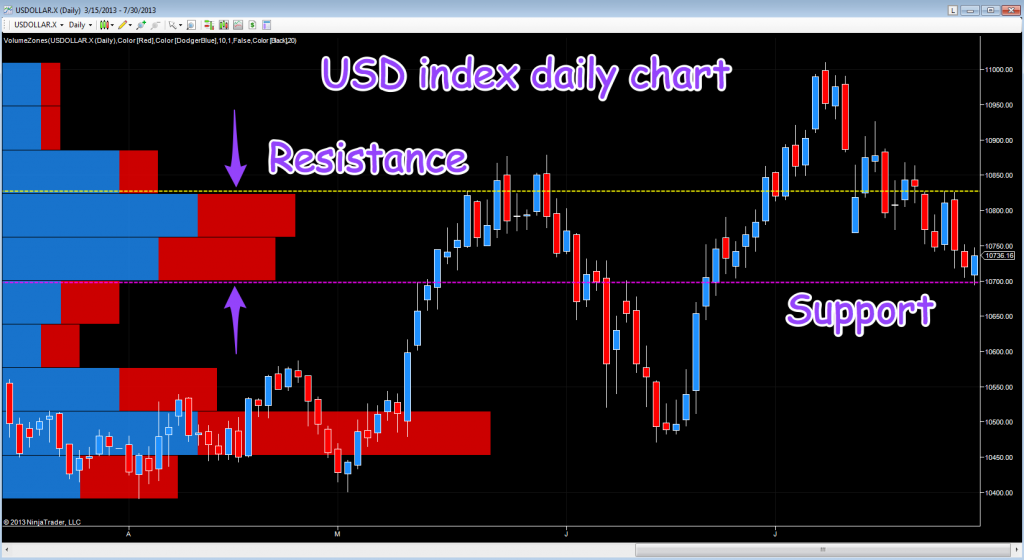 Some interesting price behaviour now building on the daily charts for the US dollar index and the Yen index, ahead of next month, as the markets prepare for another round of the new parlour game, 'pin the date on the taper'. This is loosely based on 'pin the tail on the donkey'. A favorite in the Bernanke household.
Let's take a look at the daily charts and see what's happening.
As I suggested some time ago, the dollar index appeared to be running into resistance at the 11,000 level, and indeed duly reversed with the bearish engulfing candle, delivering considerable momentum into the move lower. The subsequent rally shortly after, ran out of steam with the shooting star candle, with the index moving lower in a series of lower highs and lower lows. The key level that has now been breached in the move lower is in the 10,840 region, as shown with the yellow dotted line, and Friday's bearish engulfing candle has once again injected downwards pressure on the US dollar.
Today's rally has been modest and appears to be weak, having failed to hold above the 10,750 region in today's trading session, and we are now at another key level, as shown with the magenta dotted line. And the reason? Well, we are now in danger of breaching the solid region of price congestion clearly shown on our volume at price indicator on the left hand side of the chart. Here we can see the two deep areas which extend between the two lines shown on the chart, and if the lower level is breached, then this will present a solid wall of resistance for any short term recovery for the dollar. The next logical platform of potential support is much deeper in the 10,550 region.
However, given Ben's favorite parlour game at the moment, anything is possible, but given the hints and clues so far, it seems unlikely that the index will reach this level. Far more likely that the dollar will recover in the medium term, and move back to test the deep resistance now in place in the 10,800 region in due course.
By Anna Coulling