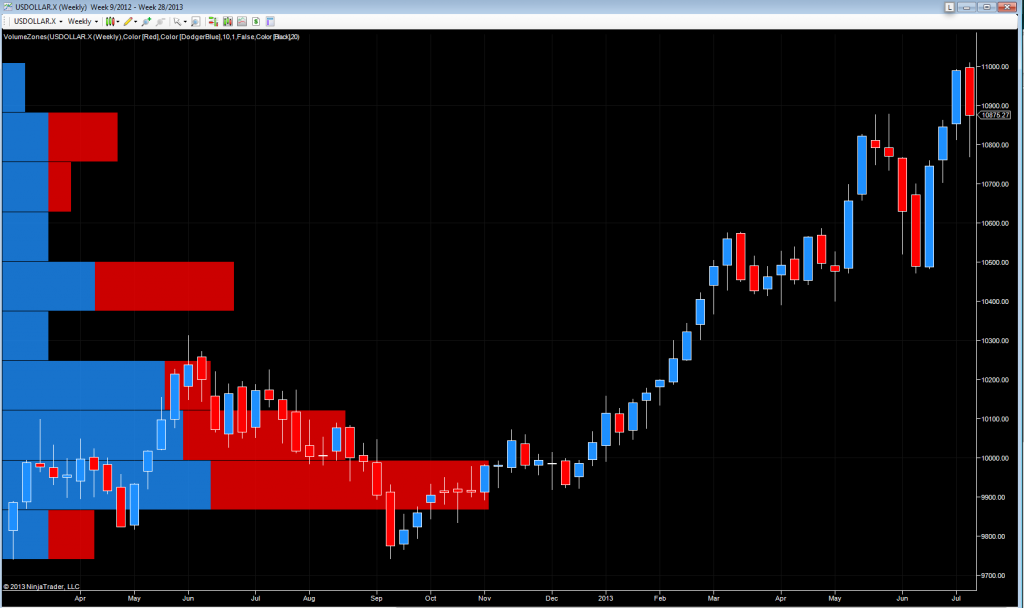 Complementing the Yen index is of course the US dollar index, and whilst the daily timeframe is the usual chart of analysis, I have moved to the weekly chart here, to give a more considered view of the longer term direction for the US dollar, now that the dust has settled following Ben Bernanke's 'clarification'. Who would have thought that the words, 'for the foreseeable future', could be so powerful. I am always reminded of the famous quote by previous Fed Chairman Alan Greenspan who said:
'If I seem unduly clear to you, you must have misunderstood what I said'
Given that the Fed has now clarified what it means with regard to any potential tapering of QE, well at least for the time being, where is the US dollar heading next?
From a technical perspective on the weekly chart, bullish momentum remains in place for the time being. Although the currency sold off sharply last week, this negative sentiment failed to hold, as shown with the deep lower wick to the candle, which tested support in the 10,800 region. This duly held with the index closing at 10,875.27, marginally below the 10,900 level. The resistance level in the short term is clearly in place at the psychological 11,000 level, and this is now the price point which needs to be breached for a continuation of the bullish momentum.
Moving to the volume at price histogram, we can see on the left of the chart that there is little in the way of price congestion at this level, so short term support and resistance levels are now increasingly significant. For any further bullish momentum the 11,000 level now holds the key, and to the downside, the support in the 10,800 region is equally significant, and if this is breached in due course, then expect to see a re-test of the 10,500 area in the medium term.
By Anna Coulling