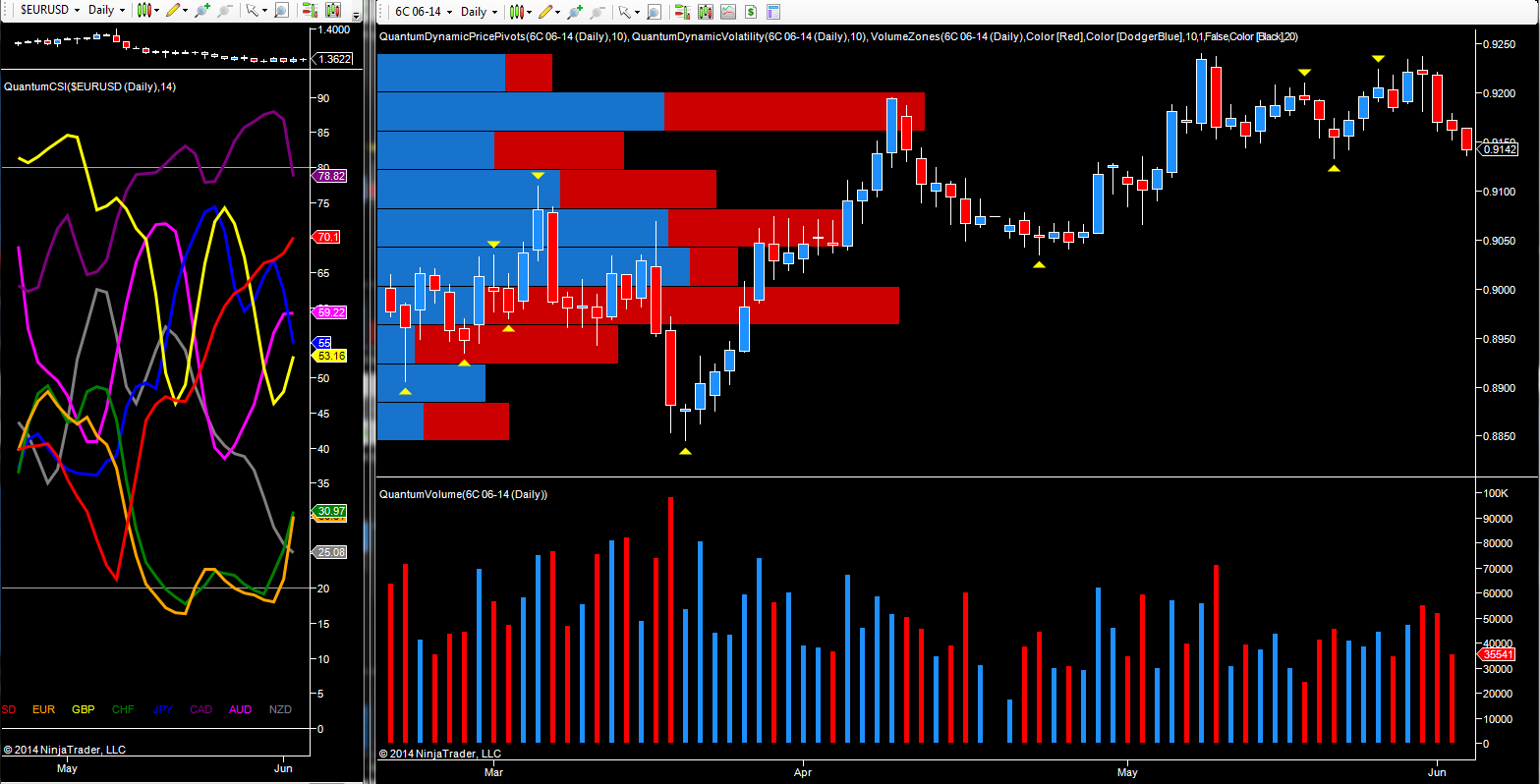 In my post of 28th May I suggested that the Canadian Dollar was approaching a key turning point as it was heavily overbought as displayed on our daily currency strength indicator on the left. Since then, the currency has indeed been selling off and for evidence of this we need to look no further than the CAD/USD June futures where this price action is clearly reflected.
The June futures contract has been in a consolidation phase for some time, with the upper level in the 0.9240 area, and the lower level in the 0.9120 region. To the upside, the resistance is now defined with the two isolated pivots with the most recent failure last week following the hanging man candle of Friday's trading session, with the pair selling off sharply on Monday. However, it is interesting to note that whilst the associated volumes on Friday and Monday were high, yesterday's volume declined, suggesting that the current selling pressure on the Canadian dollar is declining ahead of today's news releases as the major operators watch and wait!
To the downside, the isolated pivot low defines the current support level in this congestion phase, and if this is confirmed with a further isolated low, adding further strength to this level. The volume at price histogram also confirms this picture with a deep region of resistance now in place between 0.9150 and 0.9200, whilst below two levels of potential support extending from 0.9100 down to 0.9050. Should we see a break below the 0.9100 region, then expect to see a deeper move lower for the pair, with the initial target being the 0.9050 area, followed by the 0.8945 region in the longer term.
Whilst many fx traders focus almost exclusively on the spot markets, the futures market provides an alternative 'inverse' view, both in terms of price action, volume profiles and key support and resistance levels. Today sees the release of two key economic releases, namely the Trade Balance and an Interest Rate decision, so expect to see some volatile action later. As always, volume price analysis will validate and confirm further moves in the pair once these key releases are out.
By Anna Coulling