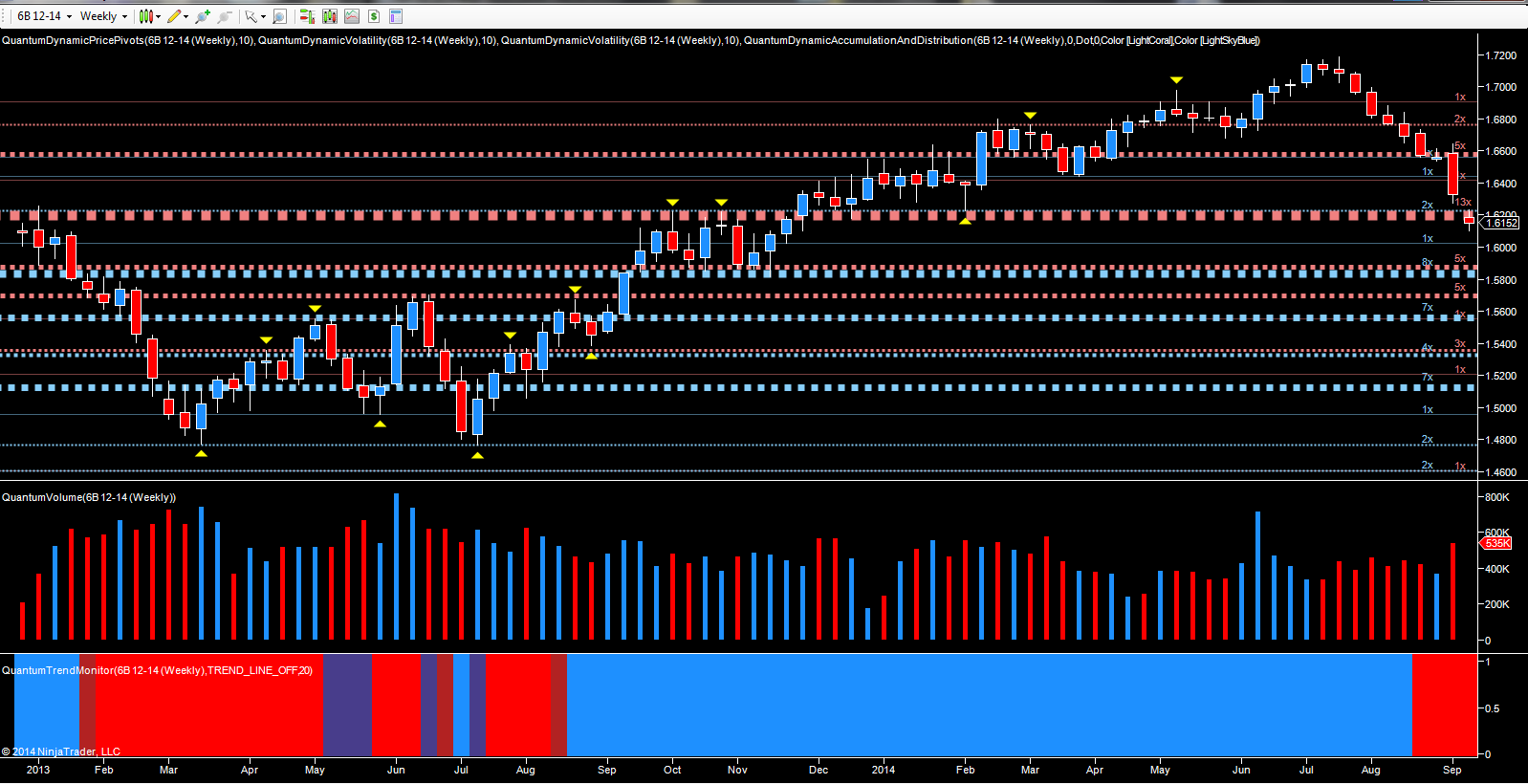 The financial markets have today finally woken up to the possibility of a break up in the 300 year union between Scotland and England, following a poll at the weekend that showed the yes campaign posting a narrow lead. The result has been a spectacular fall in sterling which saw cable gap down almost 150 pips on the December future at the open of the Asian session, and which, at time of writing is trading lower still at 1.6144. A gap down in any instrument is highly significant, but even more so in forex where they are relatively rare, and certainly one of such magnitude.
Despite the fact that this weekend's poll has yet to be confirmed by others, this price action may set the tone for cable until polling day on 18th September. From a technical standpoint this dramatic move has taken cable down and through several minor support regions and is now testing the 1.6100 price point, and a view of the weekly chart really does set the scene for the pair.
On the weekly chart the support region now breached at 1.62 has now become resistance and the next logical level for any steeper fall is now firmly in place at the 1.5850 area, as defined by the accumulation and distribution indicator.
Last week's move lower for cable was coupled by rising volumes, accelerating the move lower and with the current referendum on a knife edge it would be no surprise to see this week's price action close as a doji candle. The trading maxim that 'gaps get filled' is an old one, and given that we are seeing the effect of just one opinion poll, it would be no surprise to see this gap filled. What is also interesting for cable is that the pair is being driven equally by two strong forces at present. In other words, sterling weakness and US dollar strength.
Finally, whilst last Friday's COT report has revealed an increase to both euro and yen shorts, sterling is still showing a net long position of 9448 contracts, although this figure is a decline over the previous week. With today's price action and continuing uncertainty this Friday's figure will be worth watching.
By Anna Coulling