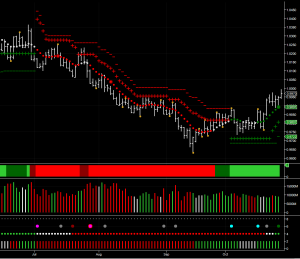 The USD/CAD closed the week in bullish mood, with the pair testing parity once again, a level not seen since late August, and closing the week just marginally below this key area at 0.9970 on the daily chart. This bullish momentum for the pair was first signaled in early October with our trading indicator once again leading the way.  The price action on the 19th October, finally delivered some much needed momentum, as the pair surged higher on the day to break above this deep area of price congestion in the 0.9700 to 0.9850 region.
Last week's price action was relatively muted, but with the pair bouncing off support in the 0.9891 region, this has now created a strong platform for a further move higher in due course. Indeed, on Friday, our trading indicator delivered our first conservative entry signal based on trend, and with consistent buying volumes on both the 3 day and daily charts, coupled with a change in trend on the three day chart, the short term forecast remains firmly bullish.
From a technical perspective the next level of price resistance is now in the 1.0150 area and this level should be tested in due course. If this is breached then we can expect to see the USD/CAD push higher and back to test the 1.0350 level in the medium term.
By Anna Coulling