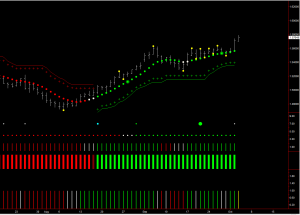 The GBP/AUD delivered a classic set up on the daily chart following several weeks of sideways with the pair finally breaking out from a narrow trading range, and ending the forex trading session with a wide spread up bar, which closed at 1.5712, well above the recent price consolidation. This bullish momentum has continued in this morning's trading session with the pair currently trading higher once again, having just failed to breached the 1.5800 to trade at 1.5769.
This is now a classic breakout pattern, and with the strong platform of support now in place, the GBP/AUD look set to the underside of resistance in the 1.5900 area in due course. Moving to our trading indicators, the pivots of the last few weeks provided clear definition of the congestion area, with the upper level defined in the 1.5650 region and the downside level at 1.5490. With such a clearly defined region of price congestion, it was simply a question of patience, and waiting for the breakout which has finally arrived. Throughout this period, the trend on both time-frames has remained green, with virtually unbroken buying volume on both the daily and the three day chart, all adding weight to the current bullish sentiment.
In addition our trading indicator has also remained firmly bullish, and with the earlier Roadkill entry signal now confirmed yesterday with a re-entry signal, the picture is complete, and we can expect to see the pair continue higher in the short to medium term, and on to the 1.6200 region in due course.
By Anna Coulling