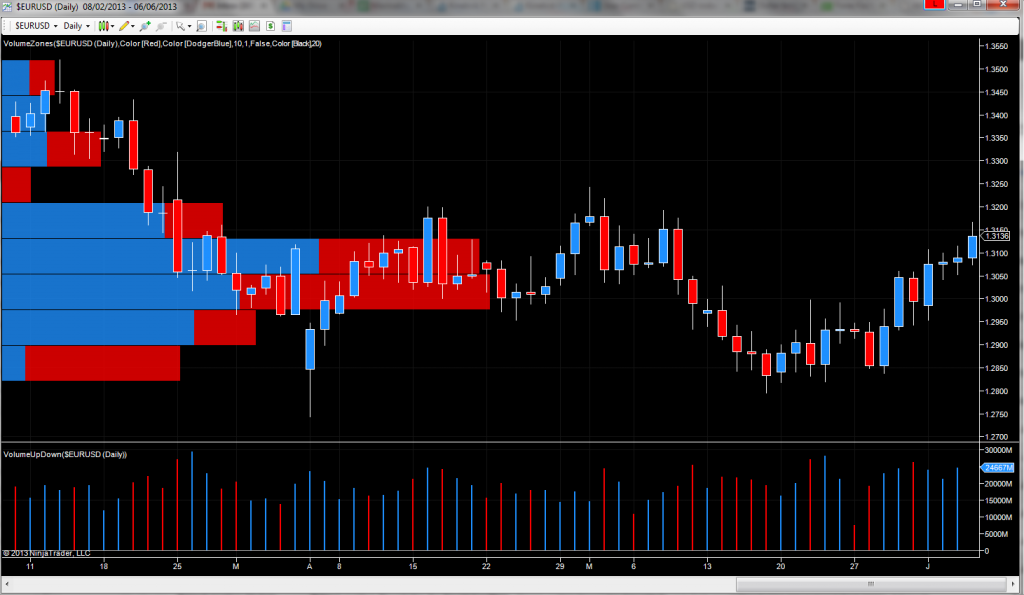 Euro bears are once again licking their wounds, desperately covering their short positions as the EUR/USD bounces back and looking to re-test the 1.3250 price area, last seen back in early May.
Today's decision by the ECB to keep interest rates on hold has had a muted effect on the eurodollar with the pair being driven more by dollar weakness than euro strength, at present.
From a technical perspective, the floor of recent support is now firmly established in the 1.2825 price zone where the pair paused for a two week period, before breaking out on the 30th May with a wide spread up candle on rising order flow. This move was further validated by today's price action which has given the euro dollar a further leg up as we move towards the 1.3200/1.3250 area where a strong region of price resistance now awaits.  Should this be breached then we can expect to see a possible move to test the underside of price resistance at the 1.3325 price point and beyond.
Moving to the volume at price histogram the platform of support for the pair is now extremely well defined between 1.2950 and 1.3100, and provided today's price action holds at 1.3150 then this should help to provide yet more support for euro dollar bullish momentum.
By Anna Coulling