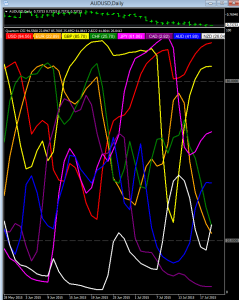 Interesting move in Cable today as it appears to have failed to capitalize on Gov Carney's remarks about interest rates, and the need for a rise sooner rather than later. Today's move lower now sees Cable sitting on the strong support platform in the 1.5550 region, ahead of tomorrow Public Sector net borrowing figures. Whilst this release is not classified as a tier one release, it comes on a day that is distinctly lacking in economic news, so may just help to drive some volatility into this pair.
However, it is Wednesday's release of the MPC Official Bank Rate Votes that the market is really waiting for, and this month's release is likely to be one of the more significant as it may highlight who, among the MPC has deviated from the recent consensus of keeping interest rates on hold.
From a techical standpoint it is sterling's performance in the cross pairs which deserves special mention, particularly against the commodity dollars. Of the three pairs, GBP/AUD, GBP/CAD & GBP/NZD, it is perhaps the GBP/CAD which exhibits the most interesting volume price profile on the daily chart, where the price action is not currently congruent with the volume. In other words we have seen narrow price spreads and rising volumes, denoting an element of weakness ahead. This is also confirmed by the daily currently strength indicator where the CAD is presently oversold following the BOC's recent cut to its overnight rate from 0.75% to 0.5%.