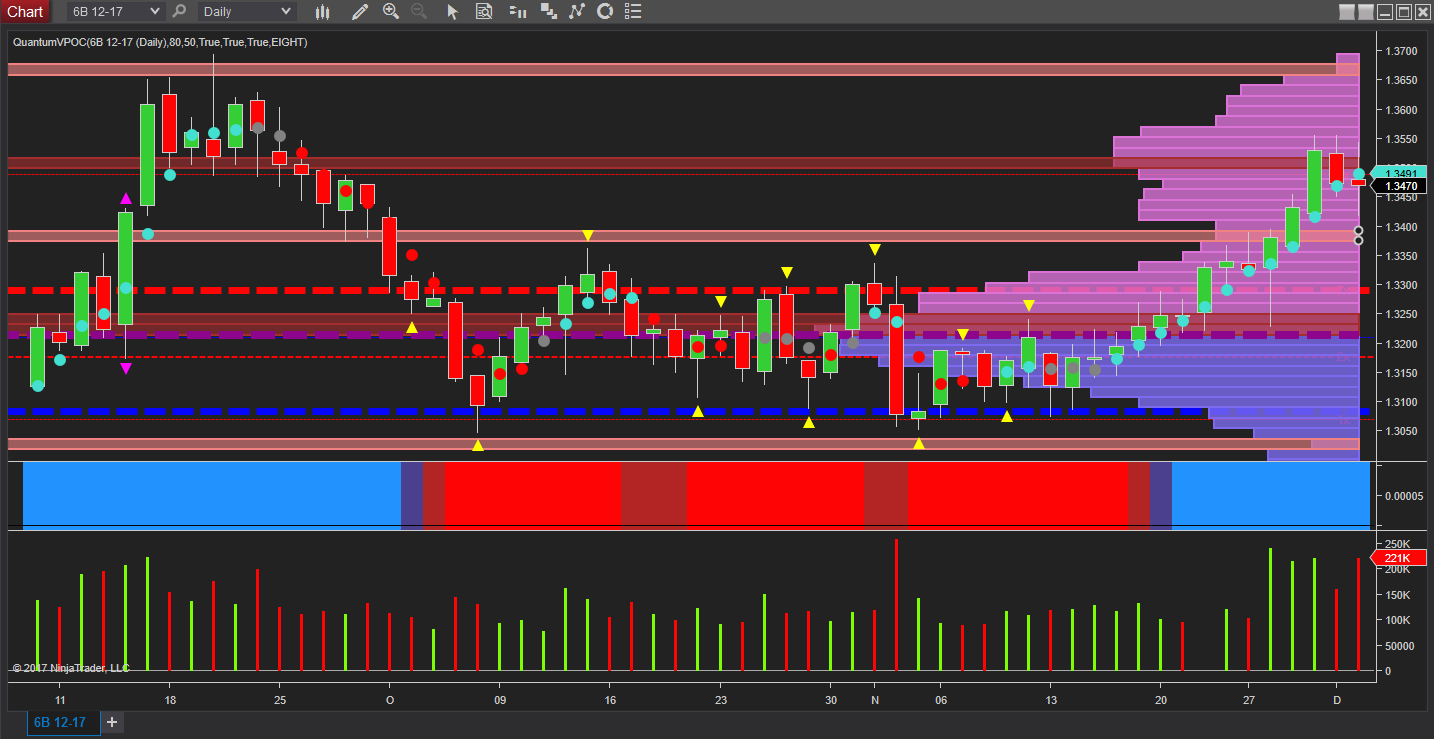 As spot forex traders we often neglect to consider the futures market for a view on market sentiment, which is a great shame because often the futures market can be ahead of the curve, and given the importance of this week for the Brexit negotiations now may be a good time to see what the charts for the 6B are signaling. The 6B is, of course, the futures contract for the British pound.
And today daily chart looks as though it may close the session as a doji candle on high volume, and contrary to what many traders believe the doji is not a reversal candle, but instead is one of indecision. And whilst a market may reverse on the subsequent candle or candles, all the doji is telling us is that this session has delivered some good 'two way price action', but that this price action has failed to deliver a definitive verdict as to the overall sentiment of the session. It is like a tug of war, with both sides having had an advantage at some stage, but by the end neither side is able to claim an outright victory. In other words, neither the bulls, nor the bears can claim to be in overall command.
In today's session the price action rose strongly early in the session, most likely as a result of the better than expected construction PMI release, but then fell back as the Brexit talks appeared to falter on the issue of the Irish border.
Moreover, the volume associated with today's candle is higher than Friday's downbar which brought a halt to the 6B's recent trend higher, a move that has seen the contract successfully break away from strong support in the 1.31 area.
The move higher has also taken the 6B through the volume point and control and, as we can see from the chart, also broken through the strong resistance at 1.33. This break has also taken the contract out of the consolidation zone that had been building since early October.
Given the strong upwards momentum of last week's price action with very strong volume supporting the move, the last two days  reflect a pause point in the current bullish trend, and provided the 1.3550 is breached on good volume then we can expect to see further upside momentum for the British pound. And given the current bearish tone for the USD this too may add further upside for the 6B.
By Anna Coulling