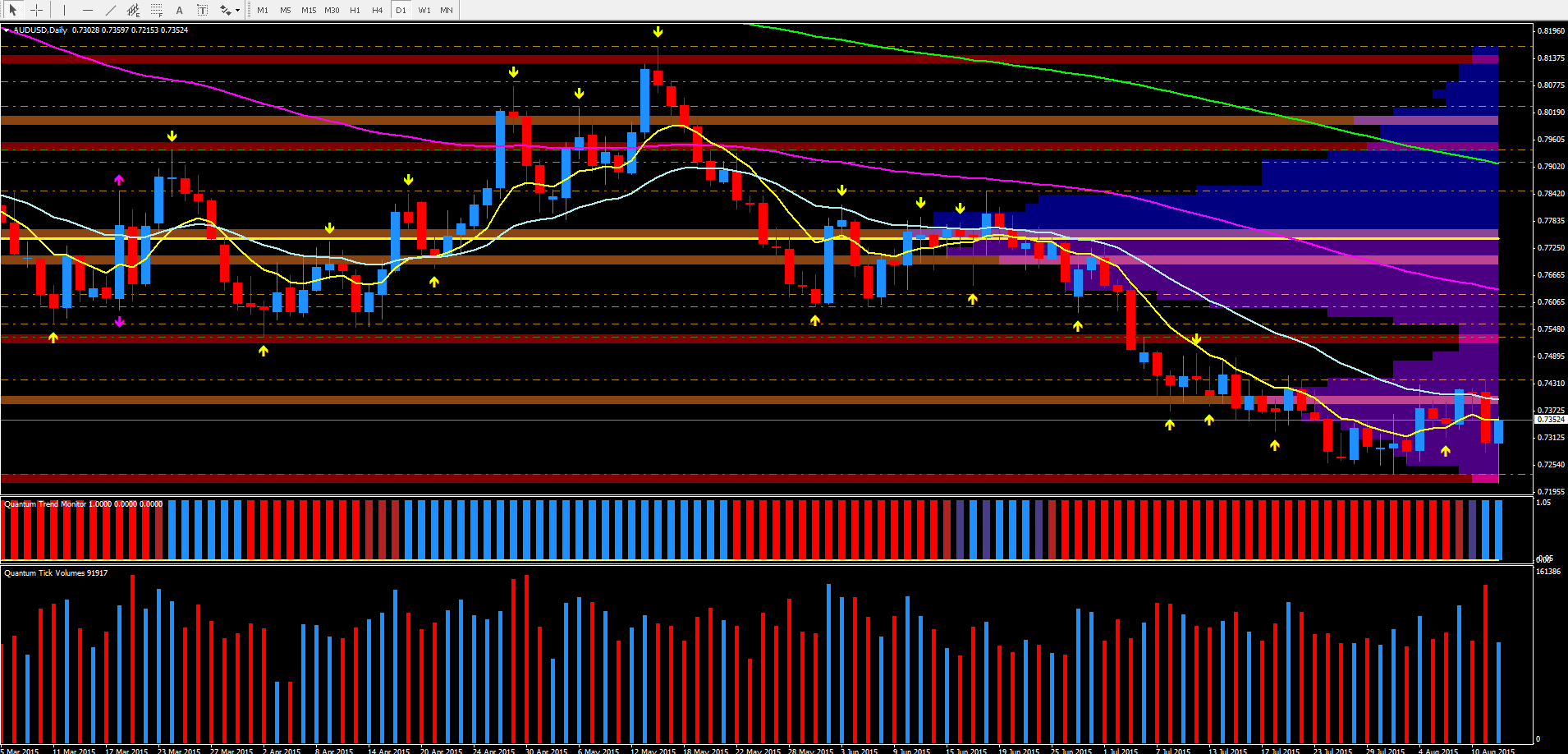 Market analysts have offered a number of reasons for the PBOC's dramatic revaluation of the Yuan, including China's desire to have the currency added to the IMF's SDR basket of currencies. At present the SDR basket contains just four currencies – US dollar, the euro, the Japanese yen and the British pound, and as part of the requirements to join this elite group has always been the liberalisation of the Yuan.
However, whilst this may indeed be a medium term objective, it is the somewhat precarious state of the Chinese economy, the recent dramatic falls in the Shanghai Composite as well as the stubborness of the CPI number which have prompted this action.
Whatever the reason, or combination of reasons, the net effect has been turbulence across all the capital markets at a time of the year when the majority of market players are away from the desks and enjoying the last weeks of summer.
Of course, with volatility comes opportunity and probably none more so than in the forex market, where of the major currencies, unsurprisingly it has been the Aussie and Kiwi which have responded the most to the PBOC move, with the AUD/USD completely erasing last Friday's and Monday's gains to end yesterday's trading session just over the key 0.73 level. Further falls overnight has seen the pair tumble to 0.7224 since when it has staged a remarkable comeback in the London session to trade (at time of writing) at 0.7330. The move off the session lows has also co-incided with our last VPOC supoort line on both the daily and weekly charts. On the daily chart the first target for AUD/USD is the VPOC resistance at 0.7395, followed by further resistance at 0.7438, and yesterday's high.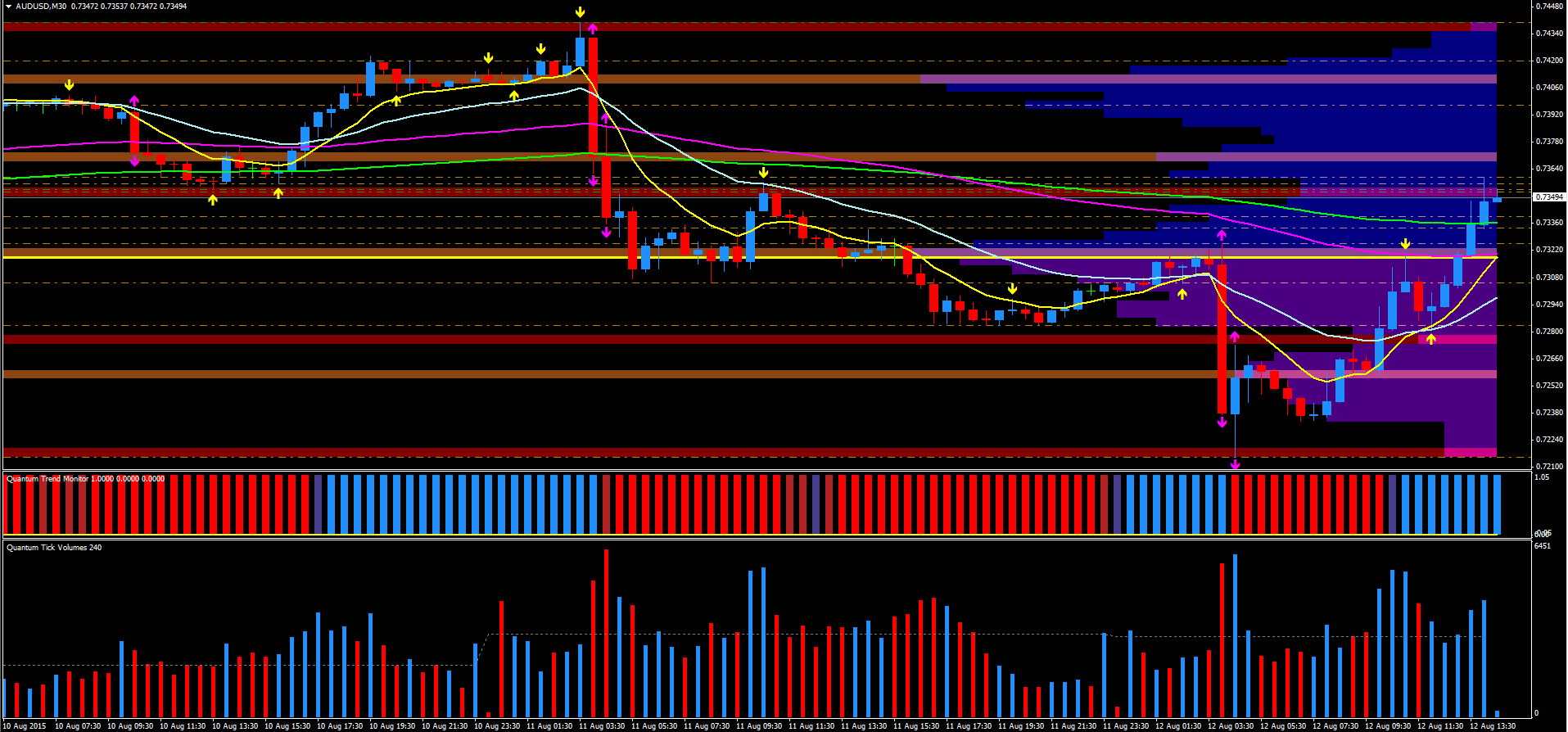 For faster timeframe traders, it is the 30 min chart for the AUD/USD which is currently significant as the price action has moved away from the VPOC line at 0.7319 and above the 9 ma, and is also approaching a deep area of resistance in the 0.7350 region. A firm break and hold of this region would certainly give the pair some further momentum to try to regain yesterday's 0.7438 high. The good news is that the current move higher has been confirmed by rising volume and a transition of the trend monitor to bright blue. Furthermore, with the price action also approaching a low volume node on the VPOC, this too should help the move higher for the AUD/USD.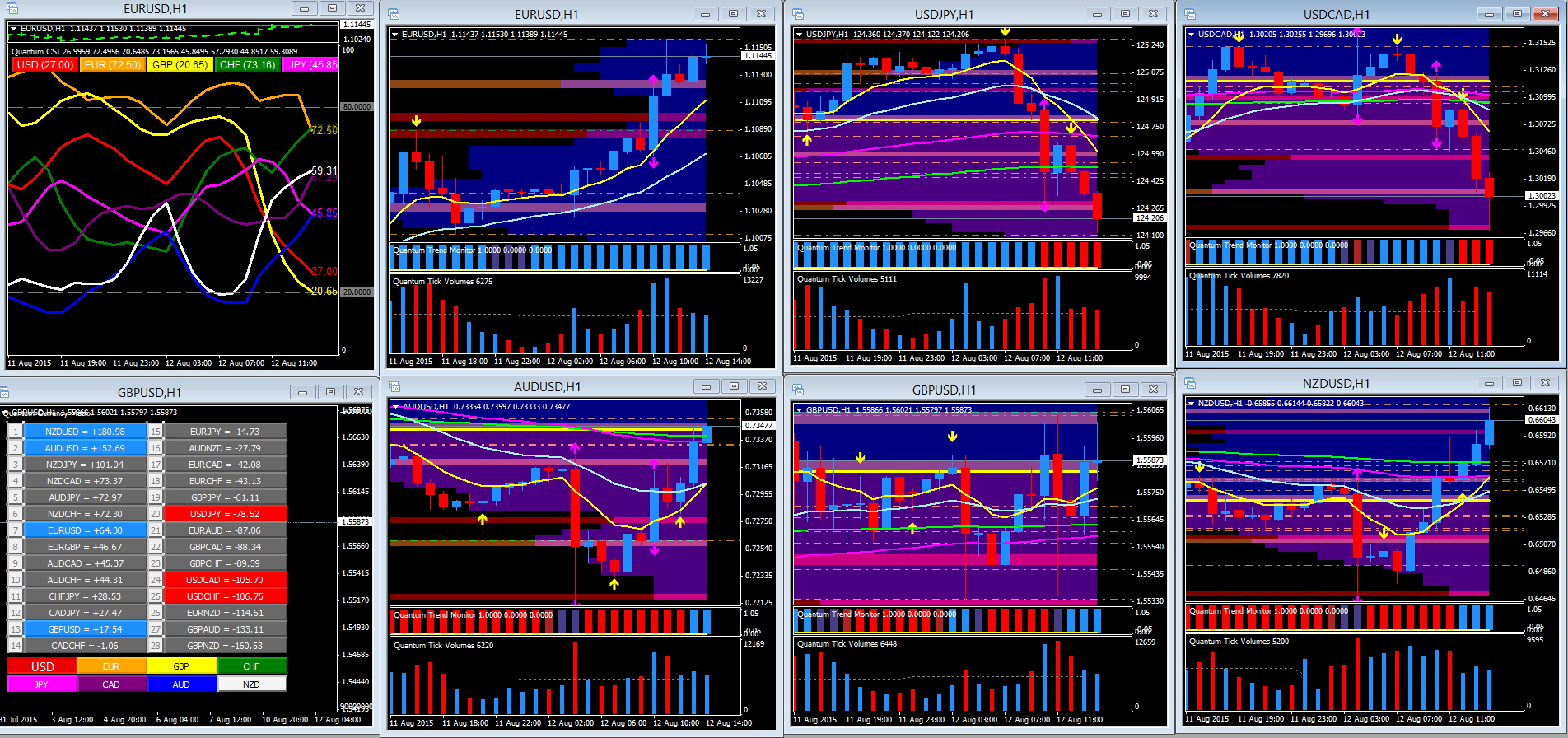 Finally, moving to the hourly chart of the Currency Matrix, we can see the NZD/USD and AUD/USD taking the two top spots.
By Anna Coulling
Charts courtesy of www.quantumtrading.com