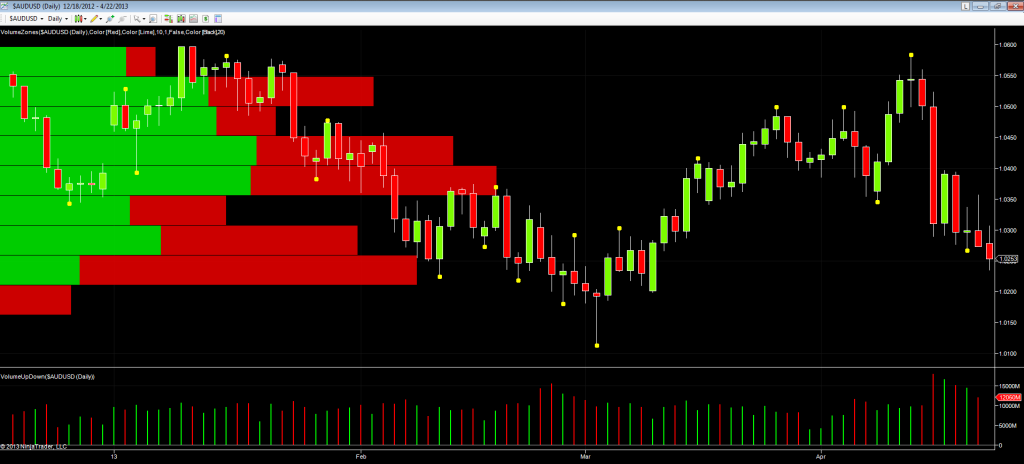 Weakness in commodities and more particularly in gold, is not helping the Aussie dollar at the moment, as the pair continued lower once again last week, closing below the 1.3000 level at 1.0274 on the daily chart. Even the long legged doji candle of Thursday, failed to provide any short term momentum, as the market struggled to move higher before ultimately closing lower. The isolated pivot low of Thursday, has also failed to provide any short term help, with the pair sliding lower once again to trade at 1.0263 at the time of writing.
This bearish picture has once again confirmed the significance, if any further evidence were needed, of the 1.0600 price level. The number of failures at this level continues to build with the latest being that of mid April, and the pair now look set to continue this extended period of sideways consolidation between the 1.0100 level to the downside and the 1.0600 region to the upside. For longer term trend traders these are now both key levels. If and when one of these levels is breached, then we can safely assume that the pair will then trend for some time, given the extent of this consolidation phase which has been in place since mid summer last year.
Moving to the volumes on the daily chart, these have been significantly higher over the last few days than at any time in the last few months, which may be an early signal of a longer term change in trend. It is also interesting to note that in this bearish market we have falling volumes, so perhaps the current move lower is running out of steam. Time will tell of course, and it will be interesting to note the trading volumes this week as the pair test the platform of support clearly in place at the 1.0250 level. Any breach here could see the pair back to test the 1.0100 platform once again, at which point, we will be waiting to see whether this extended period of price congestion is set to continue it's never ending pattern once more, with a move back to the 1.0600 – Again!
By Anna Coulling