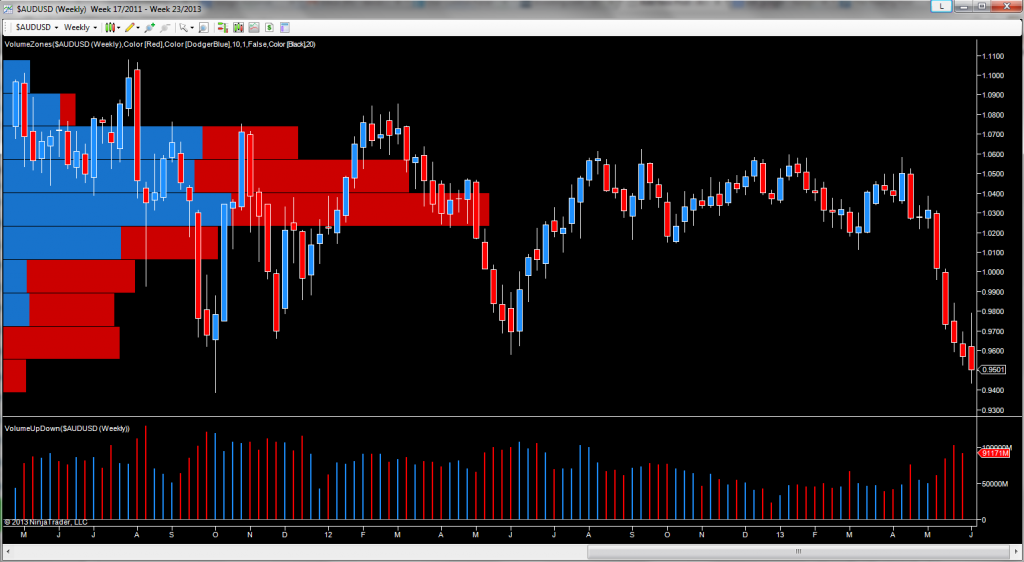 The weekly chart for the Aussie dollar makes for some interesting reading right now, following the extended phase of bearish momentum which has seen the pair move firmly through parity and on to test the 0.9500 region throughout May. The question now is whether this negative tone is set to continue further, or have we reached a pause point and possible reversal?
The initial change in sentiment for the AUD/USD finally occurred back in mid April, with yet another failure at the 1.0600 level. At the time I wrote about a triple top, but in fact this was the fourth time the market had failed at this level extending back to 2012. What I did suggest however, was that should the support region built in the 1.0200 region be breached, then this would open the way for a breakout and extended phase of bearish price action, which has indeed been the case.
Whilst the last three weeks have seen strong moves lower, what is interesting is that the spreads on each of the weekly candles is now narrowing, and we have a classic slowing pattern, with four down candles, each with a narrower price spread than the last. In addition, this has been accompanied by rising and above average volume, with the penultimate candle, a narrow spread on high volume, a classic signal of stopping volume – in other words, buyers moving into the market.
Finally, moving to this week's candle, here we have the potential for a classic long legged doji, and assuming that this candle is created, following Non Farm Payroll later today, and with a high volume bar on the week, then we have all the constituents in place for a reversal in the pair. The long legged doji candle is a classic sign of market indecision, and if preceded with stopping volume, which would be the case here, is sending a strong signal of a potential reversal. So to answer my own question posted at the start, we can expect to see a recovery for the pair in the short to medium term, provided the long legged doji candle is confirmed following NFP with some strength in the Aussie dollar which will need to close somewhere near the 0.9550 to 9600 level.
By Anna Coulling