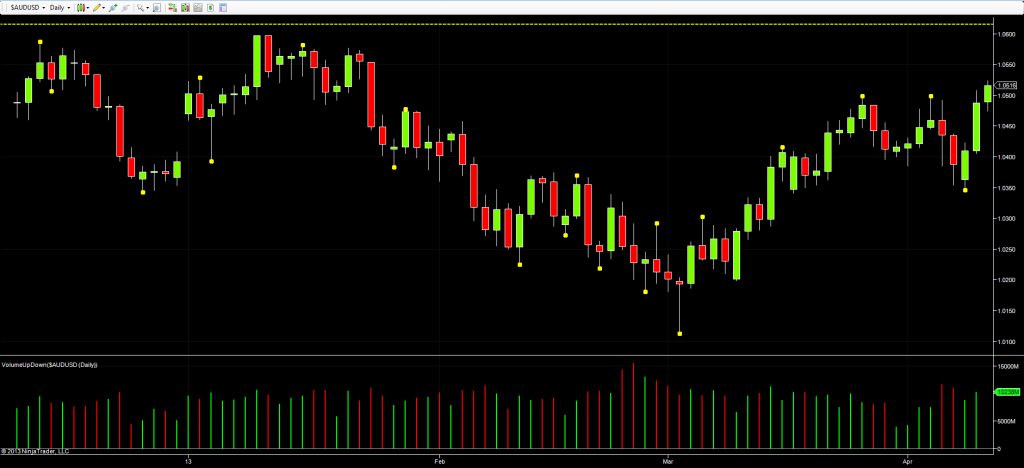 A bullish day for the Aussie dollar yesterday, which ended yesterday's forex trading session with a wide spread up candle, with prices returning to test the 1.0500 level once again. This is a level I have mentioned several times before, as it is now gaining in significance, given the two failures at this level in late March and early April, and clearly defined by the two isolated pivot highs.
Yesterday's price action also tested this level, and it is interesting to see in early trading today, that the pair are easing their way through this level, to currently trade at 1.0514 at the time of writing. As always, for any break above resistance, we do need to see some 'clear water' on the price chart, with a close well beyond this region later today, or indeed later in the week. The volume is certainly validating the price action at present.
Yesterday's candle was well supported with above average volume, and also increasing on the previous day, a positive signal that the move is genuine with buyers clearly in evidence. In addition, the isolated pivot low in the 1.0350 area, has also given the pair some additional upwards momentum.
Overhead however, now looms the 1.0600 level once again, and as shown with the yellow dotted line. This is the point at which all recent attempts to rally have stalled and ultimately failed, and the key as always will be in volume price analysis. If we are indeed to see another attempt to break through this stubborn area of resistance, then this will require effort, which means volume, as this is now a significant barrier to breach.
If the pair do ultimately break above this region, then we should see an extended bullish trend develop in the longer term. But, first things first. The initial target is a close above 1.0550 which establishes the initial springboard, and then it's down to the volume to validate price on any further move higher and a subsequent breakout from there.
By Anna Coulling