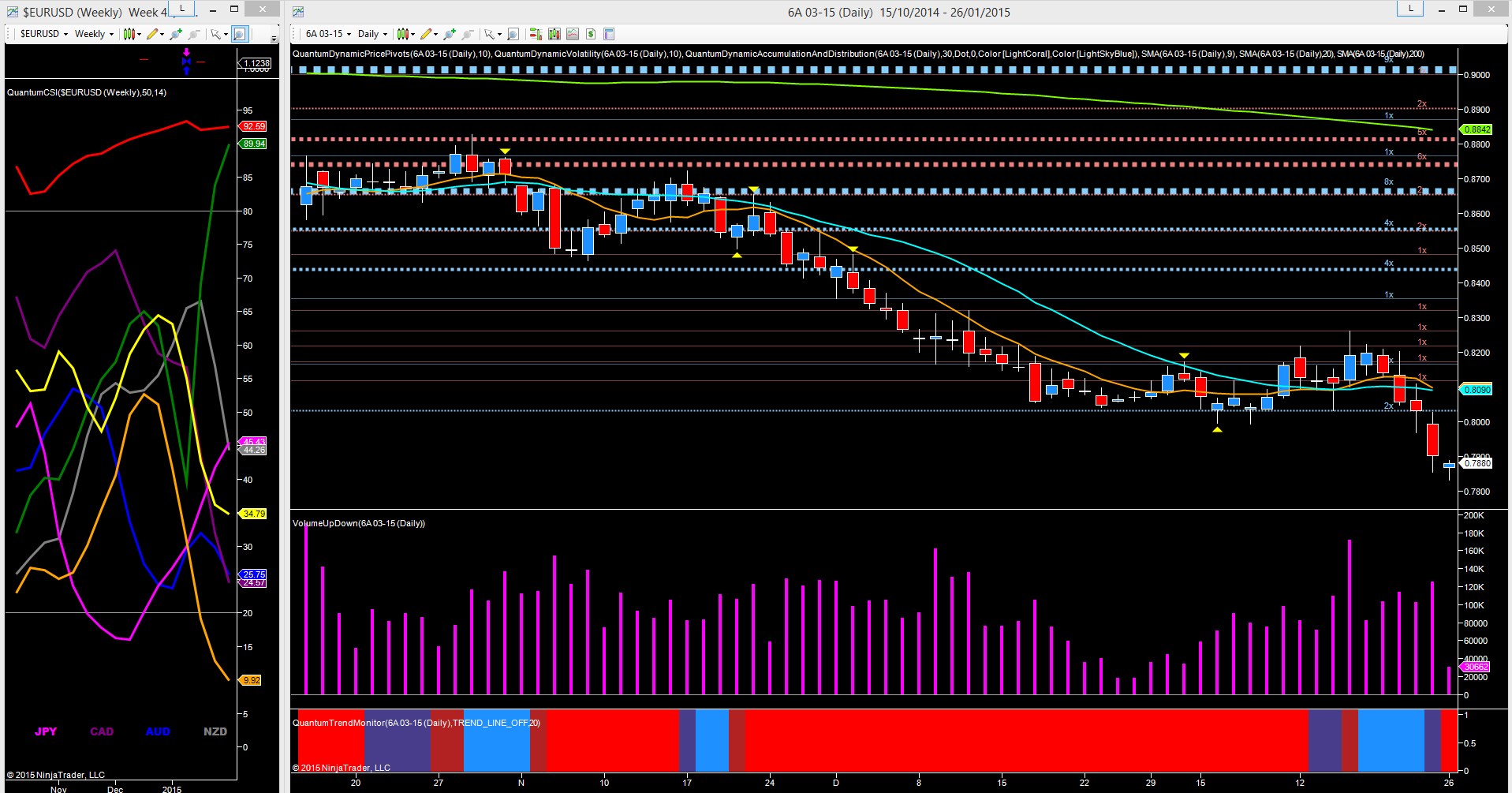 The Aussie dollar was one of those currency pairs which finally capitulated and gave up the fight, as the US dollar juggernaut continued to flatten anything which stood in its path. Until last week, the AUD/USD had been attempting to re-base and rally higher in contrast to the other majors, but Friday's price action was the final nail in the coffin of this move, driving the pair firmly through the platform of support in the 0.8020 region, an area which had been building since the start of the year. However, with this level now breached, the bearish momentum for the pair now looks set to continue and pick up the pace in due course.
The key day for the pair occurred on the 15th January, with the candle closing higher in the session, but with a deep upper wick to the body and on ultra high volume. This was a clear sign of weakness, with the upper wick confirming the selling on the day, and a likely reversal in due course. This was duly confirmed last week with the pair moving lower on rising volume and culminating in Friday's wide down spread down candle. In overnight and early trading the pair have continued lower, gaping down on the close of Friday to currently trade at 0.7883 at the time of writing. The next logical level of support now awaits in the 0.7640 area, and with the above level now broken, we can expect to see the pair move lower still in the short to medium term.
Moving to the weekly currency strength indicator to the left of the chart, the Aussie dollar (the blue line) has some way to go yet before reaching an oversold position on the indicator, whilst the US dollar, the red line, continue to move deeper into the overbought region.
From a fundamental perspective we only have three items of tier one news for the Aussie this week, namely NAB Business Confidence, CPI and PPI before next week's all important interest rate decision and statement. And with the Bank of Canada having surprised the market with an unexpected rate cut, there is speculation the RBA may follow suit which would add a further layer of bearish sentiment to this pair.
By Anna Coulling