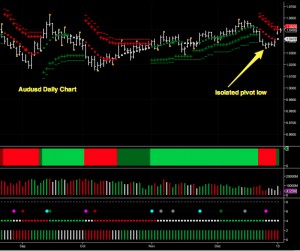 The key technical level for the aussie dollar on the daily chart remains the 1.0600 level which saw the pair fail at this level on three separate occasions in 2012.  The first occurred early in August, followed by a repeat in mid September and finally, and most recently, a failure on the 12th December last year where the price touched an intra day high of 1.0584.  An isolated pivot high was duly posted at this price point which duly drove the pair lower into the year end before the pair managed to find some support in the 1.0344 region.  Indeed, on 26th December an isolated pivot low was posted on the daily chart which has since provided a minor springboard for a gapped up open in the New Year with yesterday's price action closing at 1.0502.
The question now, of course, is whether we are likely to see a further run towards the 1.0600 price point and, if so, whether this will be breached in due course and here the weekly chart may help to shed some light on whether this is likely to occur.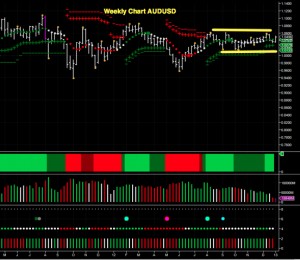 The weekly chart paints an interesting picture and also defines the price congestion of the last few months very graphically with isolated pivot highs and lows clearly self-evident. The trend on the weekly chart remains mildly bullish, despite the prolonged period of sideways price congestion and this bullish tone is also supported by the green heat map. Whilst weekly volumes have been declining in the run up to the year end, they have remained predominantly bullish with only minor selling appearing in the last trading week of 2012.  The three week chart paints a similar picture with the buyers in the ascendancy and again only minor selling appearing relatively recently.   The three week trend, however has moved into a congestion phase (white) and for any breach of the resistance at 1.0600 we now need to see this return to green.  It is also interesting to note that the 1.0800 price level is also presenting a further barrier for the aussie dollar which will only come into play should bullish momentum develop, as expected.
Finally, on the weekly chart the most recent isolated pivot low of early November is higher than that of the one posted in mid September suggesting any break will initially be to the upside.
By Anna Coulling