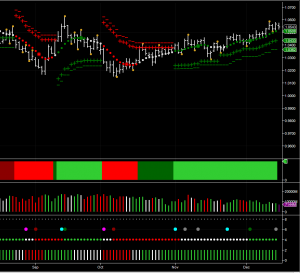 Another day of narrow price action for the AUD/USD, as the pair once again struggled to find any meaningful momentum, trading in a tight range for much of the day, with the high of the session testing the key 1.0600 level, which is now developing into a key resistance area on the daily chart. The isolated pivot high of the 9th August now defines this level, and with one failure at this price last week, again signaled with an isolated pivot high, this has now created a further barrier to a continuation of the bullish trend, which now appears to be stalling at this level. The question now of course is whether the pair will breach this price point, and continue higher, and to answer this question we need to consider the volume and trend on both the daily and the three day chart.
Starting with the volume on the daily chart, whilst this has remained bullish for much of December, the volume bars are falling, suggesting a market that is struggling to find buying momentum, and is therefore weak. However, the volume bars must always been taken in context of the year end, when trading volumes are thin ahead of the holiday period, so this may simply be a function of the time of year. Volume on the three day chart has remained firmly bullish since November, and supporting the upwards trend. Both trends on the daily and three day charts are firmly bullish, however, the trend on the daily chart, whilst positive, is relatively weak in terms of the rate of increase, so perhaps another early warning of a market becoming tired as it nears the end of a trend. The heatmap however remains firmly bullish so no sign yet of any imminent changes in trend.
The key for the pair is the price action itself and the resistance level now being built in the 1.0600 region. The last four days have produced a pivot high and a pivot low, suggesting that we are entering a consolidation phase at this level on the daily chart. If this level is breached, then this would provide the springboard for a further move higher and on towards the 1.100 high of 2011. However, a failure at this level may see a temporary pullback  and test of the platform of support now below in the 1.0400 region, before we see a further attempt to breach the 1.6000 level in 2013 next year.
By Anna Coulling