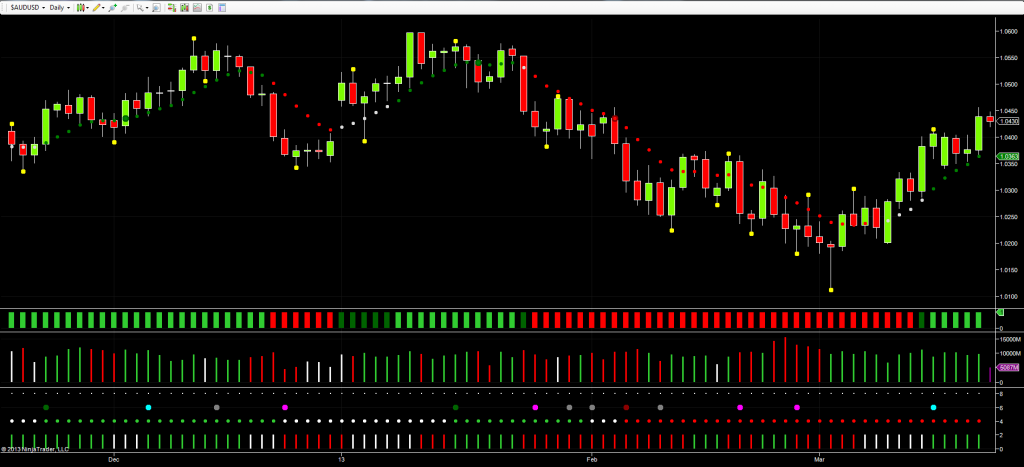 The AUD/USD has continued to climb higher once again this week, following the extended bearish trend lower, which saw the pair fail at the 1.0600 region once again, before selling off sharply to test support in the 1.0100 region earlier in the month. This duly held and the signal for the recovery was the deep hammer candle of the 4th March on the daily chart, which was given further significance with the isolated pivot low. This gave some  much needed additional momentum to the move higher.
Since then, the pair have broken back above resistance in the 1.0350 area, which is now offering a solid platform of support to a continuation of the trend. Yesterday's price action was also significant, with a wide spread up candle adding further to the bullish tome and breaking though short term resistance in the 1.0400 region. Yesterday's price action was fully supported by above average volumes, and in line with the price spread of the candle. The stage is now being set for a fourth attempt to breach the obstinate 1.0600 level.
Moving to our indicators, volumes on the daily and the three day chart remain firmly positive, with the buyers out in force, and with the daily trend also positive, all we need to complete the picture is a transition of the three day trend from bearish to bullish. Time will tell of course whether we see the obstinate 1.0600 level broken, and if it is, then this will offer a substantial platform for an extended bullish phase in the longer term.
By Anna Coulling
Come and join my live training room and discover why in today's complex markets price behaviour holds the key to your trading success.