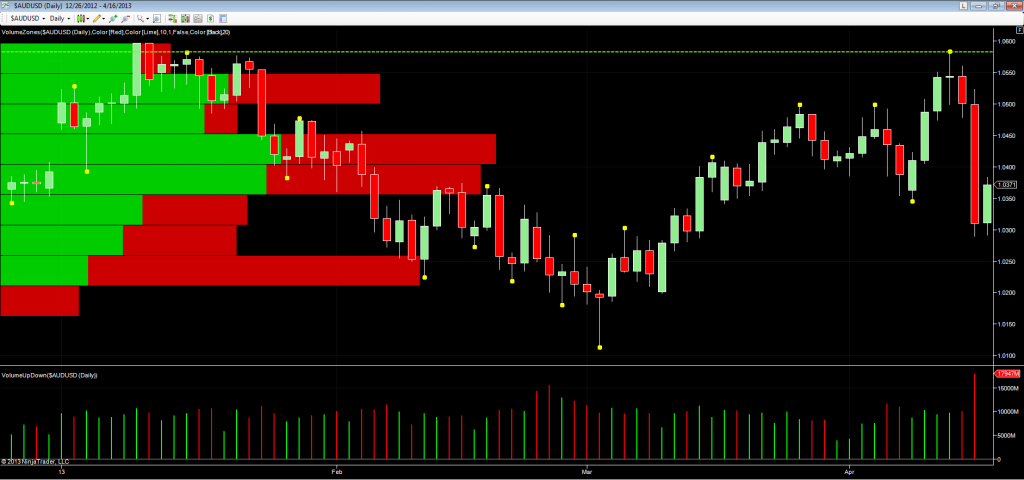 The 1.0600 region remains a bridge too far for the Aussie dollar, and indeed as I suggested in a post last week, the long legged doji candle of Thursday, suggested a failure at this level once again, which was duly delivered in spades yesterday! There are wide spread down candles and then there are extreme candles. This was one of the latter kind as the pair fell almost 200 pips on the day, and closed yesterday's trading session just above the 1.0300 level at 1.0310.
The driver for yesterday's fall was Chinese GDP which came in at a 'weak' 7.7%, with the market expecting a figure close to 8%. China of course is one of Australia's largest export markets for base commodities, and any suggestion of a slow down there is not good news for the Australian economy or the dollar.
The wide spread down candle was associated with ultra high volume, so a valid move lower, with market makers selling heavily into the move. However, with markets in general recovering some poise following the release, the pair have climbed higher from the 1.0300 platform, and looking at the volume at price histogram on the left hand side of the chart, it's not hard to see why. However, the pair are now running back into a solid wall of resistance which extends from 1.0350 up to 1.0450. A clearance at the upper level will then open the way once again for a further test of the 1.0600 level in due course, and as I have said before, if it is ultimately breached, then this will provide an extremely strong base for the pair to build a longer term trend higher.
Much will depend on the associated volume as we approach this region again, and if any attempted breakout is not supported with strong and rising volumes, then any move higher will be doomed to fail.
By Anna Coulling