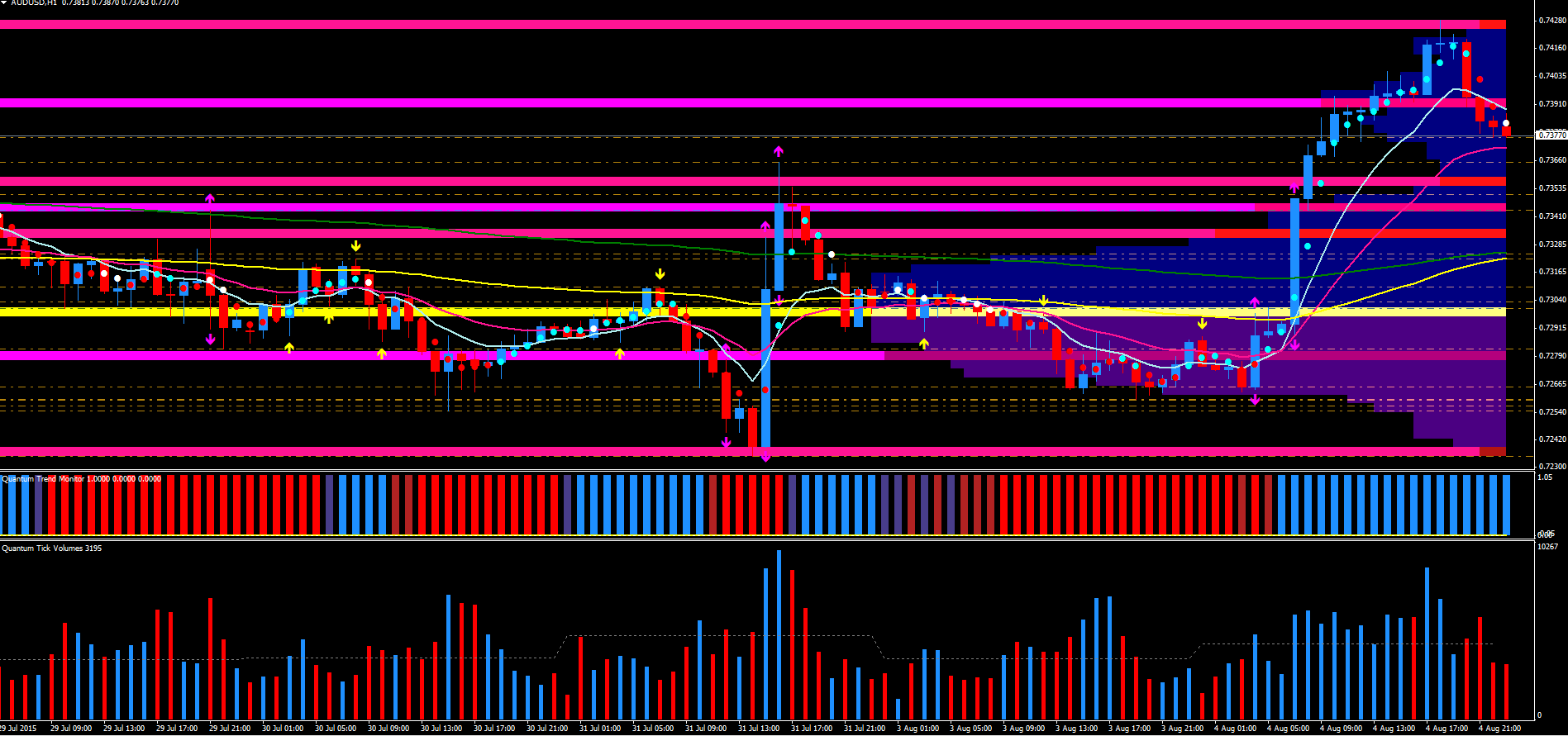 It only took a shift in rhetoric from RBA Gov Glen Stevens to upset the Aussie dollar bears whose best laid plans went sent completely awry. Gov Stevens's signal to the markets that the Aussie's 22% plunge is doing enough to boost the economy was all it needed to move the AUD/USD from the strong platform of support in the 0.7260 region to a high of 0.7428, taking the pair through the key 0.73 volume point of control level in today's trading.
From a technical perspective the move, as shown on the hourly chart, has been text book for price/volume traders once the pair hit the ceiling of resistance at 0.7428. The end of the rally saw high volume but with no follow through on price – a clear anomaly, since when the pair has rolled over to test the support in the 0.7377 region.
The move higher in the Aussie has not been confined to the AUD/USD, but also reflected strongly in the crosses. Once again it is the hourly chart which illustrates this dramatic shift in sentiment.
Following such a move, of course, we can now expect to see a pullback, which has already started, most notably against the US dollar and British pound. And here it is the 4 hour chart which is perhaps the most intriguing, given the fundamental news later this week for both the US and the UK.
However, important fundamental news for the Aussie is not over yet, but we will have to wait for Thursday when crucial employment numbers are due, namely the employment change and unemployment rate numbers. And here there is an element of circularity with the RBA whose failure to cut rates yesterday, or even hint at the need for a lower Aussie is tied to these releases. In other words, it has been the resilience of the Australian labour market, where the unemployment rate has continued to decline from the 6.5% peak which has, in many ways, removed the need to cut rates any further.
By Anna Coulling
Charts from MT4 and Quantum Trading