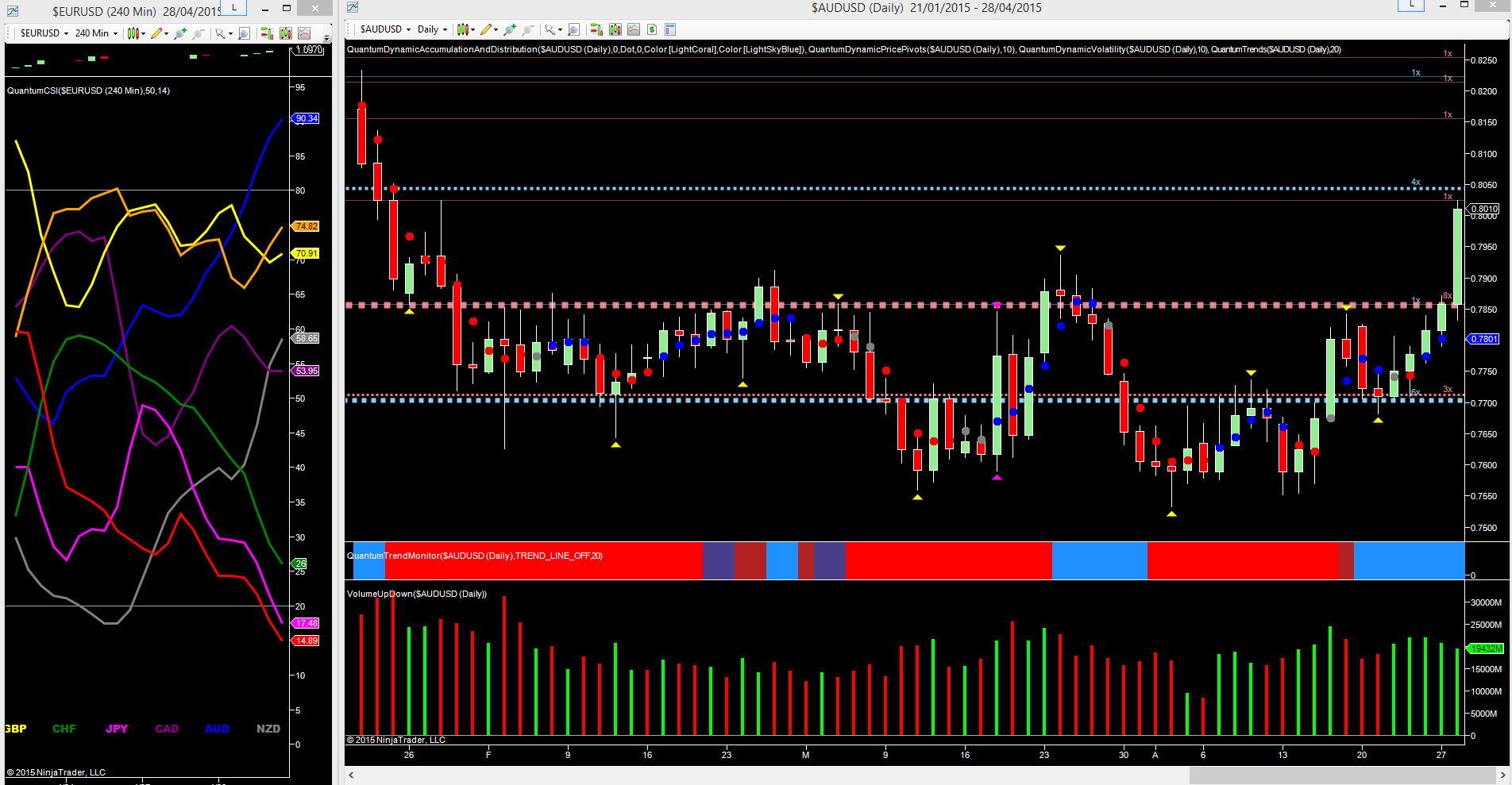 Much like the Australian cricket team who continue to dominate on the pitch, in the world of currencies it is the Australian dollar which has steamrollered the competition, with today's wide spread up candle for the AUD/USD, one of the most significant moves ever seen, and also reflected in related Aussie dollar pairs. The catalyst cited for the dramatic move higher has been many and varied, but in particular the recent comments from Governor Stevens, a rise in iron ore prices, and continued weakness in the US dollar have all combined to provide today's explosive move higher. The comments from the RBA were couched in terms of a 'no comment' on a move in interest rates next week, which the market has perceived as a signal that interest rates will not be cut, whilst iron ore prices have been increasing in the last few months with demand from China continuing to remain strong. Finally, of course, the US dollar continues to remain weak following its meteoric rise of the last few months with dovish comments from the FED continuing to weigh heavily on the currency of first reserve. Tomorrow's  key Advance GDP number plus the FED, this could set the tone for the US dollar as we move into the summer months. Certainly on the monthly dollar index chart, the strong up candle of March low looks as though it will be mirrored with an equally strong down candle for April.
Moving to the daily chart for the AUD/USD today's price action is self evident, with the pair surging through the 0.7850 resistance region and powering on towards the next minor level now in place at 0.8050 denoted with the blue dotted line. However, what is perhaps more revealing about today's move is the associated volume, which appears to be settling at a lower level than previous days, which is unusual to say the least. Whilst this is not an anomaly as such, the volume required to drive such a move should be ultra high and not average. Indeed yesterday's up candle serves as a good benchmark, with a modest up candle matched with modest volume and confirming the move. Today's price volume relationship is out of balance, suggesting a degree of spoofing in the market on thin volumes and with  'johnny come lately' bullish traders jumping on the bandwagon, likely to be caught out in any reversal in due course. Indeed the currency strength indicator to the left of the chart reflects the current picture well, with the blue line, the Aussie dollar now deep in overbought territory on the 4 hour timeframe, with the US dollar the red line equally heavily oversold and setting up for a snap back reversal in due course.
By Anna Coulling
Charts are from NinjaTrader and the trading indicators from Quantum Trading.