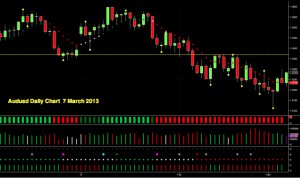 The recent slide in the aussie dollar appears to have been halted, in part by this week's fundamental news which included better than expected retail sales.
From a technical perspective the change in sentiment towards the aususd was first signalled on Monday with the formation of deep hammer candle and subsequently validated by an isolated pivot low at 1.0112, firmly marking the floor of support to the downside.
Tuesday's price action ended with a wide spread up candle and despite some negative retracement on Wednesday, bullish momentum has resumed in today's trading session with the pair looking to test the 1.0300 level.
For the pair to continue higher the next clear level is now in place as shown by the dotted line in the 1.0375 region and, any breach of this region, will then see the upwards trend develop further and we could even a run back to the obstinate 1.0600 price point.
Moving to our indicators whilst the daily trend has flattened, it has not yet reversed so remains bearish as does the 3 day trend.  However, Monday's price bar was the first signal of buyers returning to the market and this also occurred on the longer time frames where bullish volume is now firmly in place.
The weekly chart also confirm this view and indeed this week's price action may set the tone for an extended recovery in much the same way as we saw from October through to December 2012.
By Anna Coulling
Come and join my live training room and discover why in today's complex markets price behaviour holds the key to your trading success.