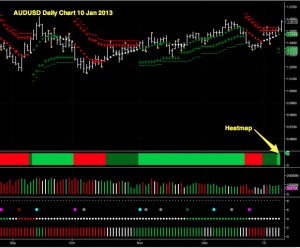 Earlier this week we looked at the Aussie Dollar – not least because there were some important news releases due in Australia.  At the time we suggested that the audusd pair was preparing to break out on the daily chart to test the 1.0600 price region once again, and indeed in this morning's trading session this is precisely what has happened.
One of the underlying drivers for this move higher was the hammer price bar of 4th January and consequent isolated pivot low which was formed in the 1.0400 price region which gave the pair some much needed momentum.  This is also reinforced the previous pivot posted in late December at the 1.0350 price point.
Yesterday's price action was significant, not so much in terms of the trading range which was narrow on the day, but in terms of the changes which occurred as a result.
First, the daily trend transitioned from congestion (white dots) to bullish green dots.  Second, our heatmap also transitioned from dark green to bright green, confirming this positive view.
Finally, volume on the daily chart has remained firmly bullish since early January and is rising gently, all supportive of a move higher.   The three day trend and volume is both white & in congestion, and once this transitions through to bullish then expect to see the pair break higher and through the strong resistance which is now immediately ahead in the 1.0600 price zone.In today's trading the pair has already tested this region once and at the time of writing is trading at 1.0578.  If the 1.06 price point is breached with a clear break and hold, then this will supply a substantial platform of price support which will see the pair move higher still with 1.0800 the next immediate target, last seen in February 2012 and from there a short hop to the 1.1 level of 2011.
By Anna Coulling