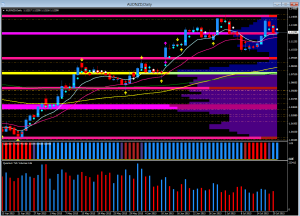 The release of this evening's RBA minutes should give us some insight into the Central Bank's thinking on Australian interest rates, which were kept on hold earlier this month. In the run up the release the Aussie has been performing reasonably well against its peers, with the exception of the AUD/NZD where we have seen a sharp move lower with only the 1.1205 price region and 9ma providing a degree of support.
One reason for highlighting this cross pair is that on Wednesday we have an interest rate decision from the RBNZ, and with some analysts expecting a cut, market sentiment towards a currency is often most strongly reflected in a cross, as opposed to a major pair. Indeed, since coming within a fraction of achieving parity earlier this year, the pair has been in a reasonably strong uptrend, coming off the 1.0020 low of early April to test the 1.1428 price region and 200 day ma on 28th June.
Both currencies, of course, are now suffering at the hands of a reduction in Chinese demand as well as the recent commodity sell off. However, from a technical perspective resistance is now in place at 1.1428, on the daily chart. However, in this price region we have a low volume node, so any move higher should be relatively fast, provided it is accompanied by rising volume.