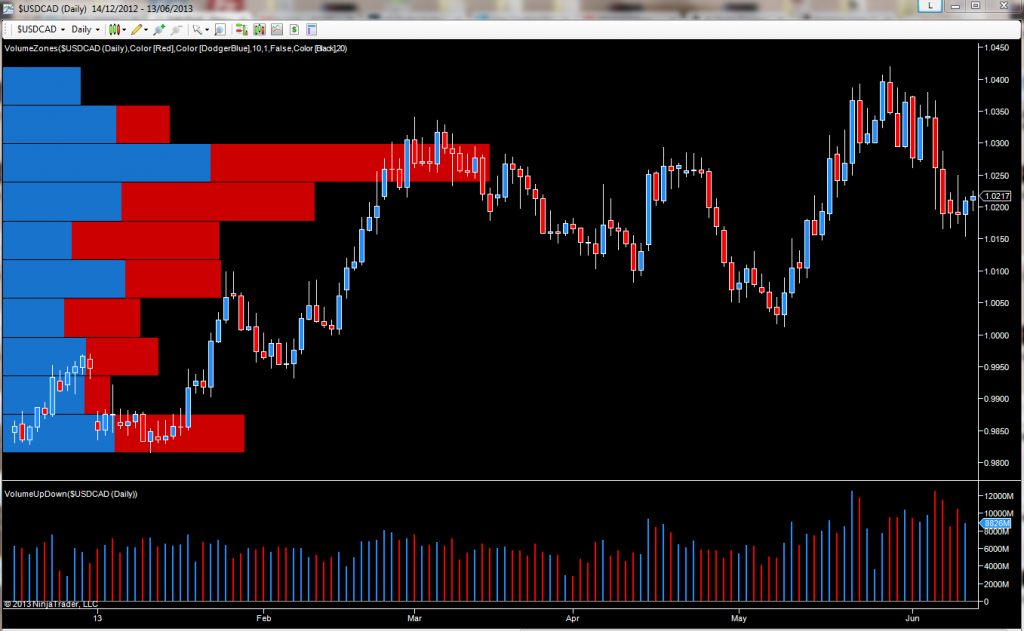 An interesting technical picture is currently developing on the daily chart of the USD/CAD, following the recent sharp move lower for the pair after the failure to breach the 1.0400 level in late May. Since then, the pair has moved back once again to test parity, but given the volume profile now building, it will be interesting to see whether this move has already come to a halt. So what is so interesting?
First, the sharp move lower last week, was associated with falling volumes, and for any market to move higher or lower, then volumes should be rising, not falling. As we can see on the chart, the three consecutive down candles, whilst associated with above average volume, saw this volume decline over the period. Second, the last of these candles was a narrow spread candle, but high volume, sending a strong signal of buying in this volume bar. After all, if this were selling volume then the price action should have been wide, and is in fact narrow, so clearly an anomaly in the volume price relationship. Third, the following day we saw a gravestone doji candle, and the possible first sign of bullish momentum, which was duly confirmed in yesterday's price action, supported by strong volume.
As I said at the beginning – an interesting picture on the daily chart, and provided we see volumes continue to remain firm on any up candles, then we could see a move higher to re-test resistance now in place at the 1.0300 region once again, and from there, a more sustained effort to recover the 1.0400 area in due course.
By Anna Coulling