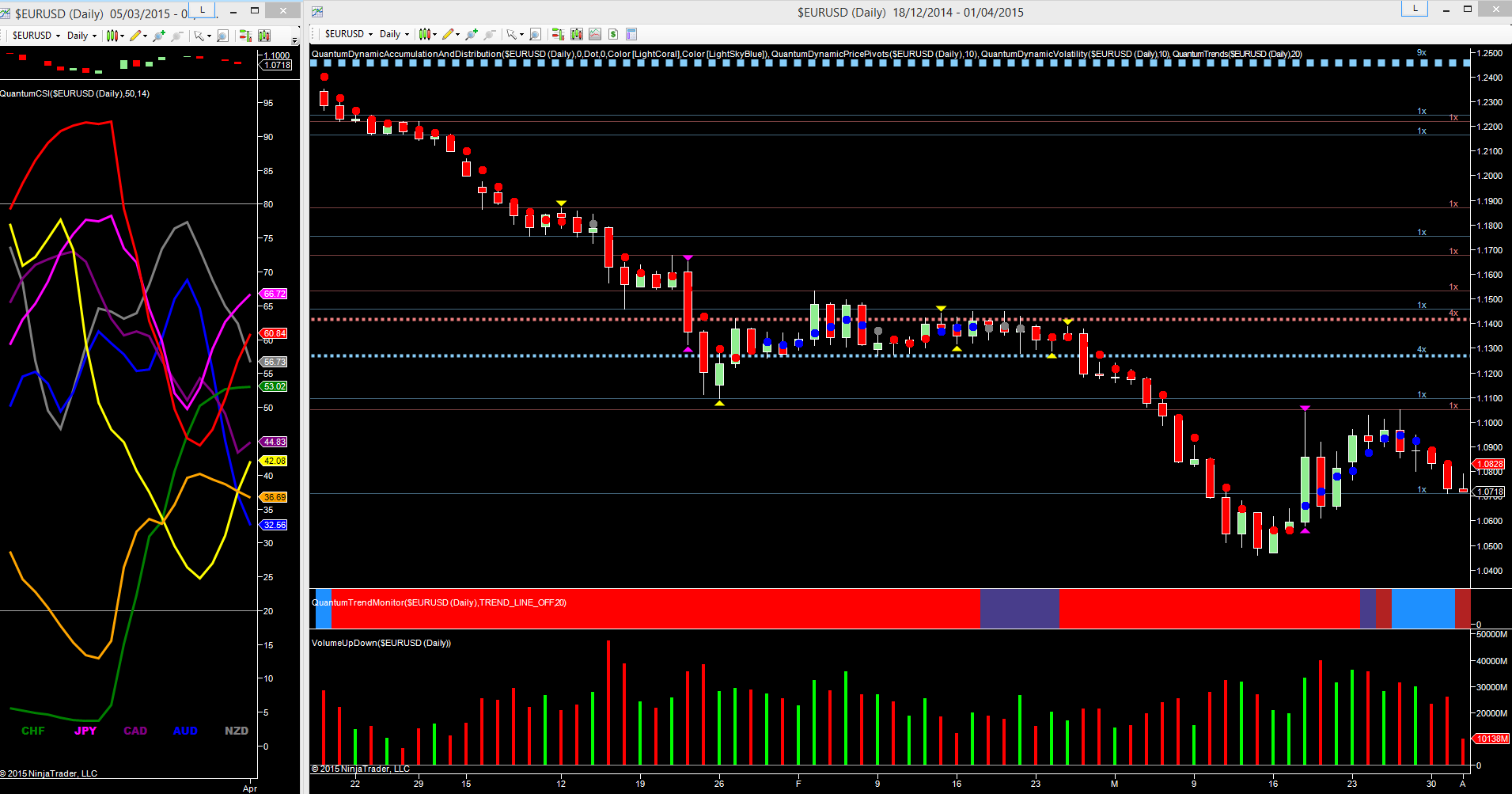 With Greece firmly back in the picture, the outlook for the euro remains bearish against the US dollar, and with the recent rally for the pair now consigned to history, the downwards trend is now firmly back in play with the resistance level at 1.1050 having proved to be a bridge too far!
This was the level tested by the volatility indicator (as shown with the purple arrows top and bottom) which was triggered on the 18th March in a classic trap move. This indicator is triggered when the price action moves outside of the average true range (ATR), and is an  unusual occurrence on a daily chart, but one which we saw on all the major currency pairs at the time. The subsequent price action has been classic, with the pair moving back inside the spread of this candle and failing to follow through, and the reason is simple to understand. The insiders move the market dramatically, generally on news as was the case here, with traders then jumping in expecting some quick profits from the reaction. However, once trapped in weak positions, the insiders then move the market in the opposite direction and back inside the range of the bar or candle. This occurs in all timeframes, but it is unusual for this to appear on a daily chart. However, the principle is the same with euro longs now trapped at higher levels and hoping for a reversal to exit.
Since the 18th March, the associated volumes have confirmed the weak technical picture, with narrow spreads and high volume, coupled with resistance above, all signalling that this was indeed a simple trap up move, in an otherwise longer term bearish trend. Yesterday's volume confirmed this further, with a wide spread down candle on high volume adding to Monday's bearish picture, and with a falling market on rising volume now evident, 1.0700 is now being tested at the time of writing, with a close below here, then opening the way to a test of the 1.0450 area in due course.
By Anna Coulling
Charts are from NinjaTrader and the indicators are from Quantum Trading