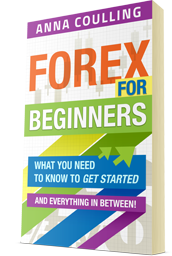 Forex For Beginners is a step by step guide to help you get started in the exciting world of forex trading.
Now available – on Amazon Kindle, and in paperback
The book leads you by the hand, from explanations of how and why we have a forex market, how it works, and the mechanics of placing trades. The various analytical approaches are explained in detail, along with understanding the importance of volume and price. From there, the book moves on to explain the concepts of margin and leverage, trading plans, quantifying risk money management, and position sizing.
Then, it's putting it all together, as we walk through complete trades together, from start to finish, with several worked examples. Finally, the book explains key elements of the MT4 platform, and how to place and manage trades.
Throughout the book there are hundreds of images and pictures, with simple explanations, to help explain everything clearly, so you will learn fast – and nothing has been left out. If you want the complete book, from novice to placing your first trade, and everything in between, then this is the book for you!
Testimonials
Forex For Beginners is a great book for starting out in FOREX trading.
– T. Shroyer
---
It brings the market and forex trade info in a really simple and great way.
– Piotr Dalak
---
It is well written and easy to follow.
– Jrock
---
I have been trading equities for a few years and have just started reading about forex. This was the 12th book I read. It should have been the first! This is the only one so far that has taken the time to run through all details, it TEACHES you about the market, trading, techniques, money management and risk. The others I have read were Strategy books. Only after reading this can I understand what the others were trying to say.
If you really are looking to enter Forex trading then you must start with this book. The others have been good too, this one will help you understand what you are reading about in all other books.
I have also read the authors Volume Price Analysis book before this one. Again I would recommend this one first regardless if you want to trade in forex, equities etc. This is much more holistic regardless of market and then go back to her others books (my opinion )
Excellent starting book for trading. I would suggest a rename Starting out in Trading with a focus on Forex. I learnt more about my shares trading in this book than I did in books dedicated to the subject.
FYI im from Australia and this book is just as useful in a different country, dont think you need to be in London or the USA to benfit. This goes for the shares and forex parts of my comments above
– Adam Edwards
---
If you are a beginner then this is a great book for you. If you're intermediate or more experienced then this might be a bit more simplistic for you, unless you've not done any analysis with volume or strength indicators then the chapters on these techniques may be interesting. if you are very interested in them then I'd highly recommend Anna's vpa book instead.
Again -if you're just starting out or just curious about the forex market then this is a great book for you.
– Jack Tackett
---
I'm a big fan of Anna, her books, and her blog. She is a great teacher with knack for taking the complexities of currency trading and paring them down to the essentials. This book is aimed at taking someone who is interested in the Forex world, teaching them the important principles they need to know, showing them the technologies they will need, and giving them encouragement guidance, and cautions that will launch them on their way. Highly recommended for anyone just beginning with Forex trading, traders who want a better grasp of the fundamentals, or anyone who just wants a better understanding of global finance.
– Adam Trevort
---
This should be the first book for everyone who wants to start in this business or, as me, knows already some things but never had a proper walkthrough explanation.
Thanks Anna.
– Joao Fernando Madeira Lourenco
---
This book showed me some things that I never considered about trading. I absolutely believe I am a better and more prepared trader after reading this book. I wouldn't recommend anyone to start trading without reading Forex for Beginners first.
– Kyle McCloud