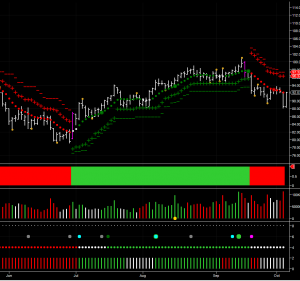 WTI December oil futures ended yesterday's oil trading session sharply higher, and closing at $92.07 dollars per barrel with a wide spread up bar, reversing virtually all of the losses of Wednesday and creating a two bar reversal as a result on the daily oil chart. Despite this, the longer term outlook for oil remains firmly bearish, with several signals confirming this negative sentiment.
The first point to note about the current price action, is that we now have a well defined area of price congestion above in the $94 to $100 per barrel region, and for any move higher, this will require sustained buying volumes to drive the market through this region. What is clear from this week's trading volume is that the market is dominated by selling, and indeed this was the key point from Wednesday's price action, with the wide spread down bar associated with a dramatic increase in volume on the day, a classic sign of bearish momentum. Indeed this was further reinforced with yesterday's move higher only associated with modest volume, suggesting that this reaction is simply a temporary move and unlikely to be sustained into the longer term.
Indeed this view is further confirmed on the three day chart, with the longer term trend remaining firmly bearish, and confirming the initial trading indicator signal on the 26th September which delivered our initial entry set up to the short side with the trend signal. The trading indicator has also remained firmly bearish since the breakout from the sideways congestion of August and early September and  with the recent pivot have now been exhausted in the move higher, we can expect to see a resumption of the current short term bearish trend in due course. The question now of course is how far is the price of oil likely to fall in the longer term? And for this we need to consider the weekly oil chart and the picture here is mixed.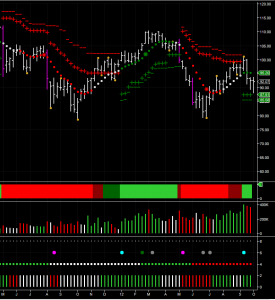 First we note that the weekly volumes over the last two weeks have both been selling, as shown in red, and in addition the three week chart also reflect this, with selling volume over a similar period. The trend here has also changed from green to red in June, giving yet another signal of longer term bearish sentiment. Moving to the weekly chart itself, the trend here has yet to change from bullish to congestion, but the governing factor here is the isolated pivot high, posted over three weeks ago as oil tested the $100 per barrel region in early September. Since then the market has reversed, and the trend on the daily chart has flattened and now broken below the immediate congestion area below. The key level here however is the $87.50 price area which defines the lower level of this price region, and if this is breached then we can expect to see the price of crude fall further, to test the isolated pivot low in the $80 per barrel area of mid June. This too is a key area with a further isolated pivot low adding further definition to this region from
By Anna Coulling