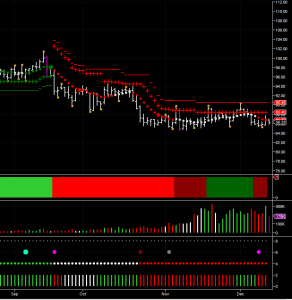 WTI oil futures continued to trade in a tight range once again today, with the January futures contract closing the oil trading session at $85.89 per barrel with a narrow spread down bar, as the market continues to drift sideways. This narrow spread price action has now become a feature of the oil market, with prices failing to break higher or lower, oscillating between $90 per barrel to the upside and $84.85 per barrel to the downside, with both levels clearly defined with a series of isolated pivot highs and lows. The platform of price support and resistance now being built in this area is now becoming increasingly significant, and the longer that this phase of price action continues, the more explosive will be the breakout for oil when it finally arrives. The question now of course is whether it will be a break higher or lower, and the clues here are in the three day chart.
The three day trend has remained firmly bearish since mid October, and whilst the daily trend has transitioned from bearish into congestion in white and subsequently back to bearish, negative sentiment has been consistent in the longer term. In addition, despite buyers returning to the longer term timeframe early in December, sellers have remained in control of the market on the three day chart, with this bearish picture confirmed on Monday with a conservative entry set up to the short side.
Moving to the daily chart, Wednesday's price action was accompanied with sustained buying, which failed to move the market higher, and therefore giving us a further clue that the market is weak. Finally moving to the heatmap, this too is now in transition, with the indicator now moving back from mildly bullish to mildly bearish, and should this change to bright red and bearish in due course, then this may signal the start of the breakout to the downside in due course.
From a technical perspective, the key price level is the series of four isolated pivots lows in the $84.85 per barrel region with the oil market now looking increasingly weak. If this level is breached, then we can expect to see the WTI futures contract test the psychological $80 per barrel region first, before moving deeper to test support in the $77 per barrel region in due course.
By Anna Coulling