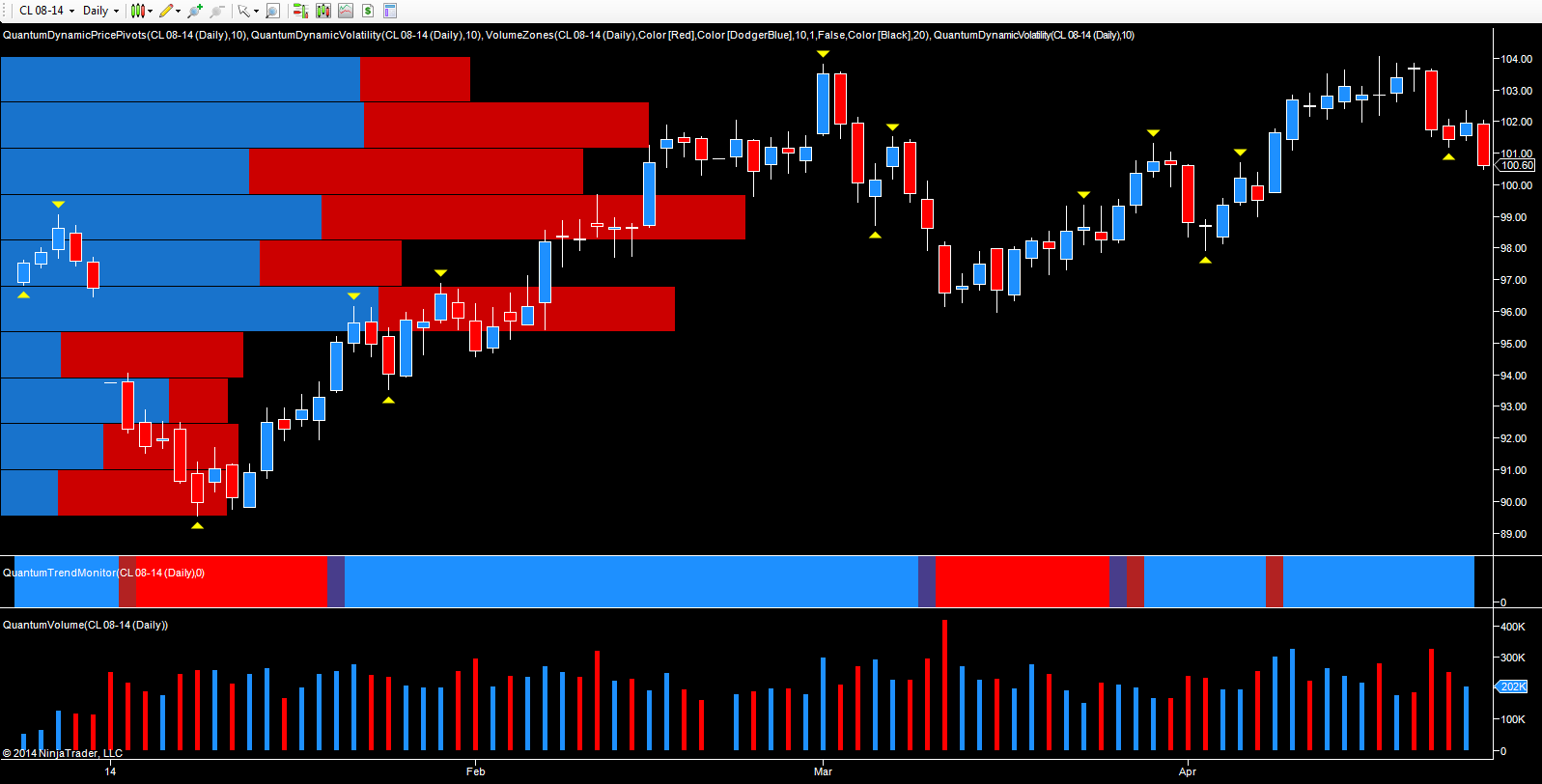 Whilst commodities such as nickel and coffee have been offering longer term investors excellent returns this year, and with soybeans set to join the party with some good rollover returns, crude oil has promised much but delivered little. Indeed, one only has to consider the longer term chart for the WTI contract to appreciate that oil has been rangebound for over 2 years, trading between $80 per barrel to the downside and $110 per barrel to the upside.
The daily chart for oil reflects this price action, and for intraday traders, oil futures are now preparing to move lower once again following last weeks' price action, with the August futures contract testing the psychological $100 per barrel once again on Friday, and closing the week just above at $100.60 per barrel as the commodity sold off sharply ending with a wide spread down candle on the day. Earlier in the week, and for much of the previous week, crude oil had struggled to breach the $104 per barrel region, a level which saw the reversal lower in March, and which now seems likely to be repeated once again. The key signal of weakness was the shooting star candle of the 16th April coupled with above average volume, with the initial down candle associated with high volume. Friday's closing price is now testing interim support in the $100.40 per barrel area, and should this be breached, then expect to see oil continue lower, and back to test the $96 per barrel area, last seen in mid March.
The recent trend of a build in the weekly oil inventories has also helped to stall the bullish momentum, with last week's build exceeding the forecast of 2.5m bbls by almost 1m bbls at 3.5m bbls with crude oil inventories remaining well above average for this time of year. The reasons for the continued build in supply are varied, but primary drivers include seasonal refinery maintenance programs, the new TransCanada pipeline to the Gulf Coast, and a tighter oil production in the US, all of which has to be seen in the context of the ongoing tension in Ukraine.
By Anna Coulling