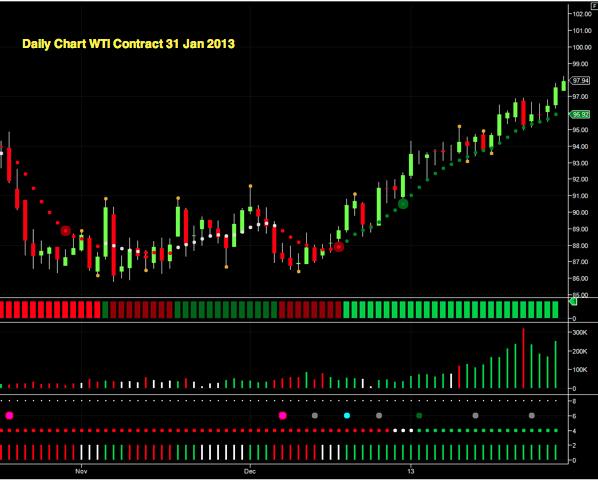 March crude oil futures continued to climb higher yesterday's oil trading session closing the day at $97.94, 62 cents per barrel higher overall.  The narrow spread up bar created during the trading session built on Tuesday's wide spread up candle which saw the commodity move firmly through the $97 per barrel price point and break out from its recent sideways consolidation.
Yesterday's move higher was also accompanied by rising volumes on the daily chart further validating the price action as the commodity now pushes further into the congestion zone created back in August and September 2012.  This congestion zone is defined by a series of pivot highs and pivots lows which broadly extend from $99 per barrel to the upside and $96 per barrel to the downside.  In other words the commodity is trading approximately at the half way point of this congestion.
With the price action now being driven higher by sustained buying volumes the stage is set for a breakthrough of the upper level and from there it is only a short move to test the $100 per barrel price point in due course.  And if this is breached then expect to see the WTI contract test the isolated pivot high of early September at $101.80 per barrel.
For oil traders who follow the 200 ma it is interesting to note that in September 2011 this provided the platform of support on the daily chart which saw oil finally break through the $100 per barrel price point.
By Anna Coulling