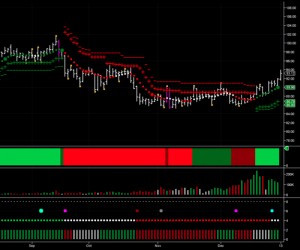 A seminal day for crude oil futures yesterday with the WTI February contract finally breaking above the extended period of sideways consolidation of November and December to close at $93.12 per barrel and ending the session as a widespread up bar.
The significance of yesterday's price action on the daily oil chart cannot be underestimated and the break to the upside was largely signalled towards the end of December with a series of higher lows on each price bar.  Yesterday's price action has now validated the bullish picture and with a strong platform of support now in place we can expect to see crude oil prices push higher in due course to test the next level of congestion between $93 and $94.50 per barrel.   Any breach of this price region should open the way to a sustained move higher.
The platform of support in the $86 to $89.50 area is both deep and wide as well as extremely well defined with isolated pivot lows in the $86 per barrel zone and isolated pivot highs in the $89.80 area.
Moving to the volume and trend the move higher on both the daily and three day chart has been accompanied with a return to bullish volume supported by the daily trend.  The three day trend is now in a transitional phase as it moves from the sustained bearish picture of late October through to the end of the year with the trend dots subsequently changing to white in the last days of 2012.  For any continuation and extended run higher we now need to see the 3 day trend complete its transition to green which will then confirm the medium term sentiment for oil.  Should this occur then expect to see the oil price re-test the psychological $100 per barrel price point in due course.
Finally, the bullish momentum on the daily oil chart has also been confirmed by an aggressive volume entry signal, giving oil traders an early entry to the market.
By Anna Coulling