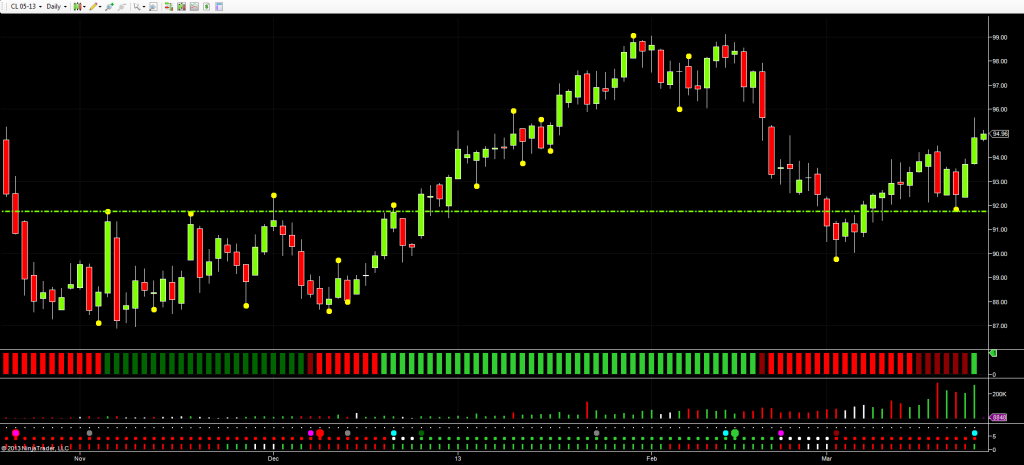 Crude oil futures started the week in bullish tone, with the April WTI contract closing higher at $94.81 per barrel, up almost $1.50 in the session, and ending with a wide spread up candle, but with a small wick to the upper body. Nevertheless, despite the upper shadow, sentiment for crude oil remains firmly bullish, and yesterday's oil trading session gave us some strong signals for the next few days.
First, and perhaps most importantly, yesterday's price action was supported by strong rising volume, and well above the averages of the last few days, sending a clear signal of buying strength in the move higher. Indeed this has also been confirmed overnight with the commodity pushing higher on Globex to trade at $95 per barrel at the time of writing. In addition, yesterday's candle also broke above the interim resistance area at $94.20 and this has now created a decent platform of support for the next move higher.
In addition, the buying volume was also reflected on the three day chart, with bearish sentiment now replaced, as the buyers move into the slower time frame, along with those on the daily chart. Finally, the isolated pivot low posted on Thursday's down candle, is also giving oil a push higher on the daily chart, a level which also defines the lower region of deeper support to any short term pullback.
In summary therefore, the outlook for oil looks extremely bullish, and as I mentioned in a post of last week, we should see oil test the $100 per barrel area in the next few weeks, if not sooner.
By Anna Coulling
Come and join my live training room and discover why in today's complex markets price behaviour holds the key to your trading success.