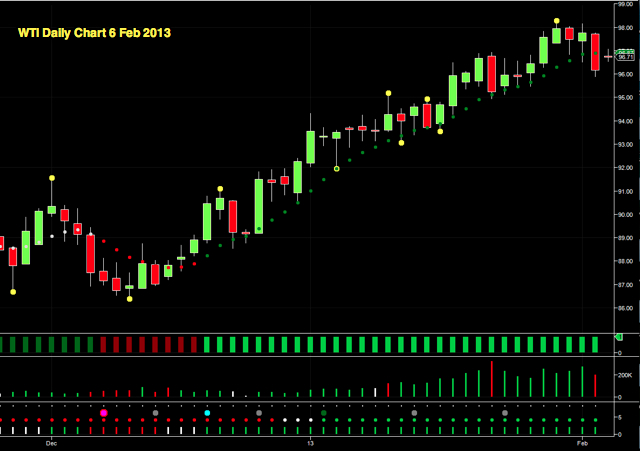 Following the sharp sell off in March crude oil futures on Monday which saw the WTI contract close at $96.17 per barrel and with markets in a desultory mood, yesterday's price action was muted, to say the least.
Yesterday's daily price action was confined to $97.07 to the upside and $96.53 to the downside before the contract closed at $96.71, posting an inside candle on the chart, as a result.
This recent short term pullback for oil was first signalled on 30th January with the posting of an isolated pivot high at the $98.26 per barrel price point which has duly been validated.  Indeed this price point has now been tested on 3 occasions, resulting in a minor ceiling of resistance at this level.
Despite this the outlook for crude oil remains bullish given the bullish trend on the daily chart which is also reflected on the 3 day chart and is further reinforced by bullish volume in both time frames.  The heat map too is confirming this view.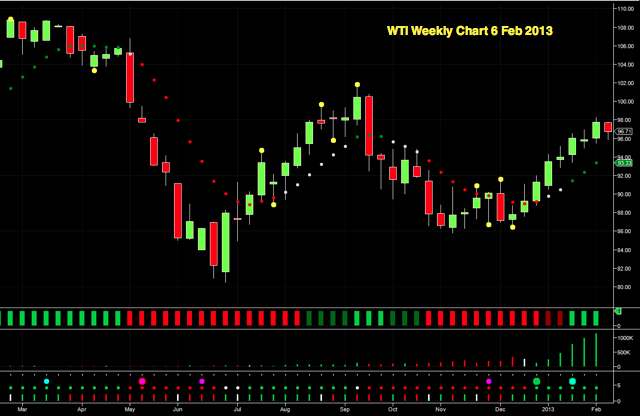 Moving to the weekly chart for crude oil.  Here too we can see the minor pullback but overall positive sentiment still remains as crude oil continues to recover from the lows of late 2012.  The psychological $100 per barrel is now clearly in sight and provided this is breached with a clear hold above, then the resistance of September 2012 should provide a solid spring board for a move on towards $104 per barrel.
By Anna Coulling
Come and join my live training room and discover why in today's complex markets price behaviour holds the key to your trading success.