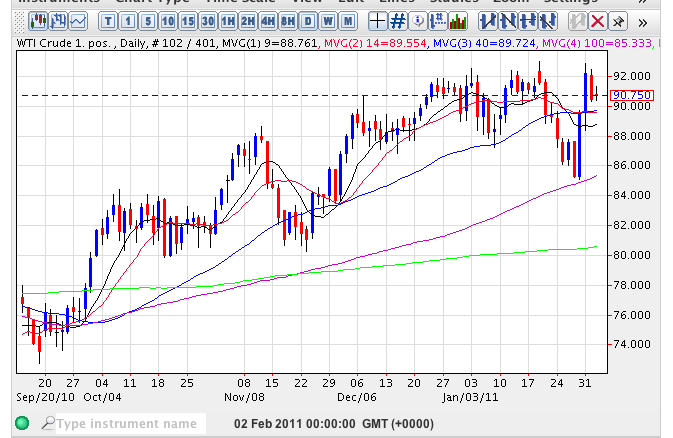 The WTI contract continues to lag Brent which breached the $100 per barrel price handle last week and, in my opinion, the WTI will follow its near neighbour in due course, in spite of the economic and political landscape.  In yesterday's oil trading session, the WTI contract closed marginally lower at $90.40, having initially opened at $92.09, earlier in the session.  The technical picture remains firmly bullish and it continues to hold above all our moving averages but the key 100 ma continues to remain the pivotal indicator and indeed provided strong support just prior to the rebound which saw the contract deliver two significant days of gains on Thursday and Friday of last week.
From a short term perspective we are now developing an area of resistance in the $92.72 price region which clearly needs to be breached, but once clear of this price zone, this should then provide the requisite platform of support for a strong move towards the inevitable $100 per barrel and in the longer term to challenge the all time high of $147.27 last seen in July 2008.
Today also sees release of the inventory figures where a 2.5m build is predicted.